Cycling tour to the mountain finish of the Vuelta 2010 (Tour of Spain) from Lake Geneva via Alps, Pyrenees to Andorra, returning across the Massif Central from August 28th, to September 22nd, 2010. about 3100 km long
XIV.-XXV. day from Andorra across the Pyrenees to Lake Geneva
I. day
Thonon les Baines
In the darkness of dawn, I began my journey with mixed feelings and well-filled panniers.
It soon strated to rain. Despite of the rain I could keep my schedule and reached a camp site in the evening.
Until the afternoon it stopped raining, even the sun started to shine.
Itinery: Noyer, Villard,Orcier Col des Arces *(1174m) - from this mountain pass to the Spanish border my bicycle computer has not worked.
Further settlements Habére-Poche Bogéve, Viuz en Sallaz Landstrasse Nr. 907. St. Jeoire , Pont du Giffre ,Marignier Cluses Col de la Colombier* ( 1613 m ) St. Jean de Sixt.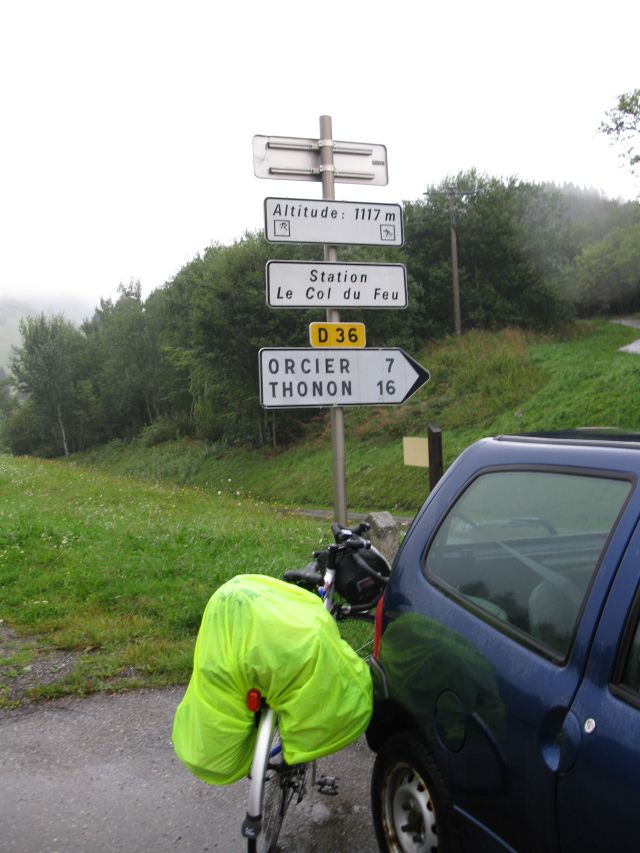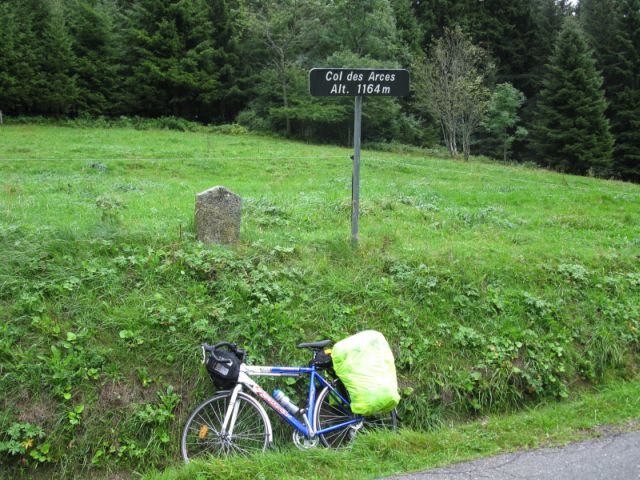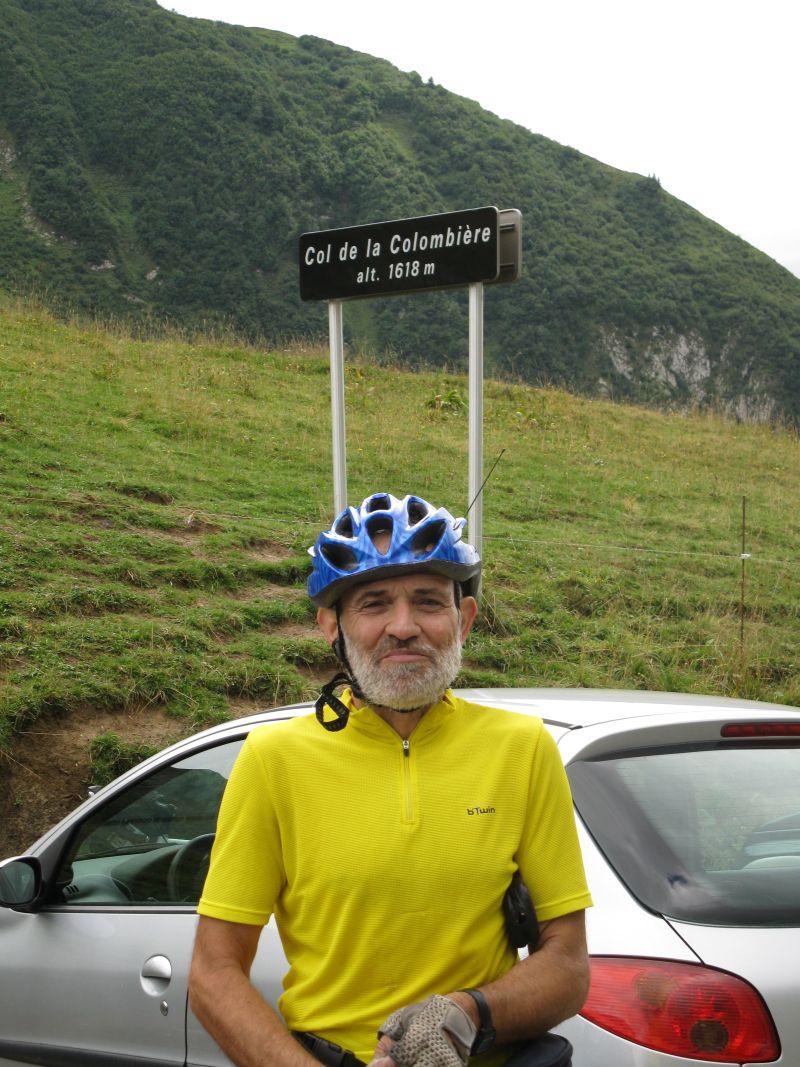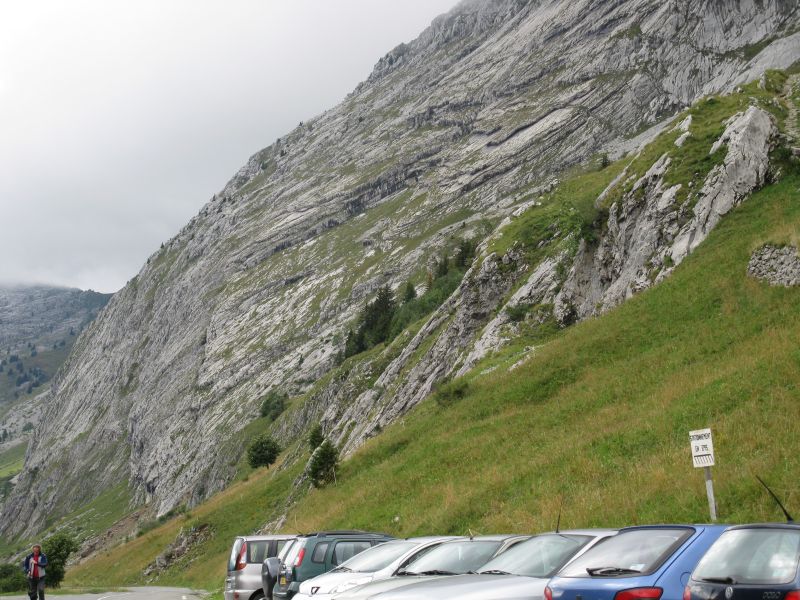 Le Col du Feu Col des Arces Col de la Colombiere View from Col de la Colombiere
Up to
Col_de_St._Jean_de_Sixt
I have not climbed up, but I rolled down from the higher pass.
One of the countless monuments of the
Frech resistance
.
Camping a la ferme (camping at farm)
II. day
Col du la Forclaz (1150 m) Vesonne, Dousard , La Thuille Entre Vernes , Villard,St Eustache, Col de Leschaux (897 m)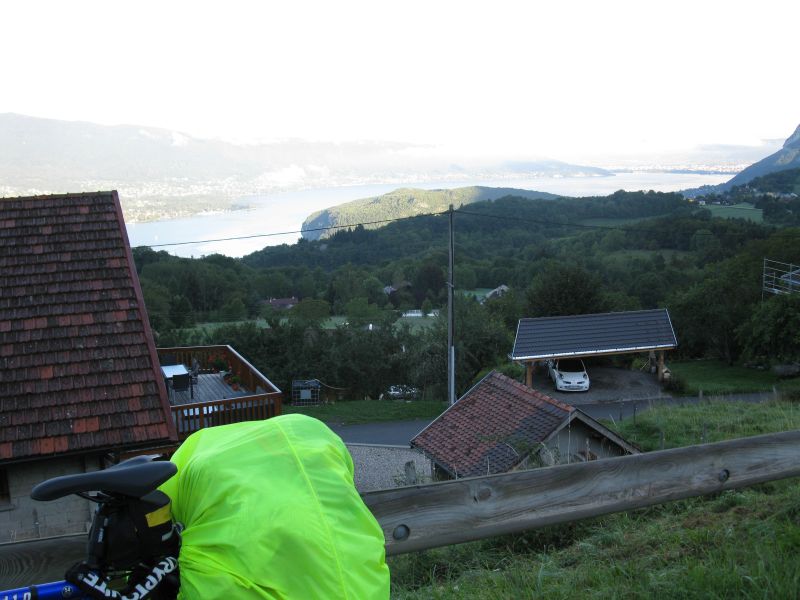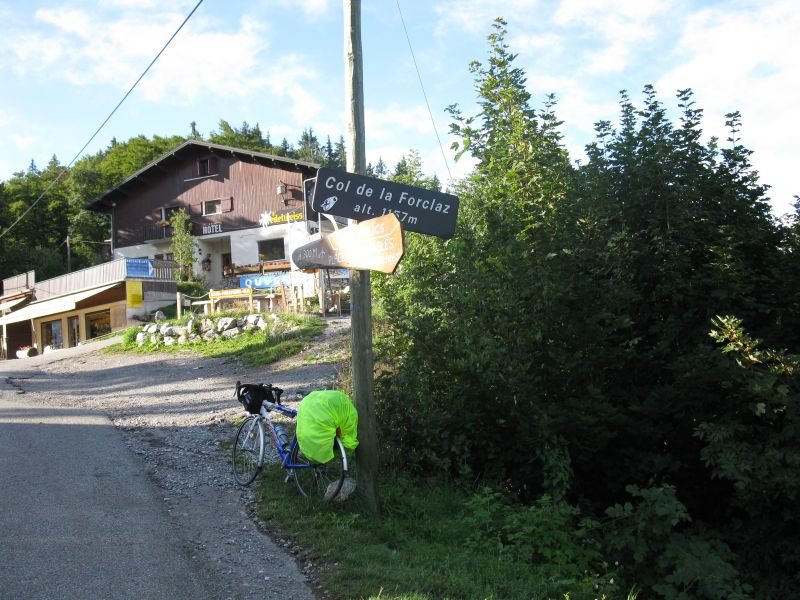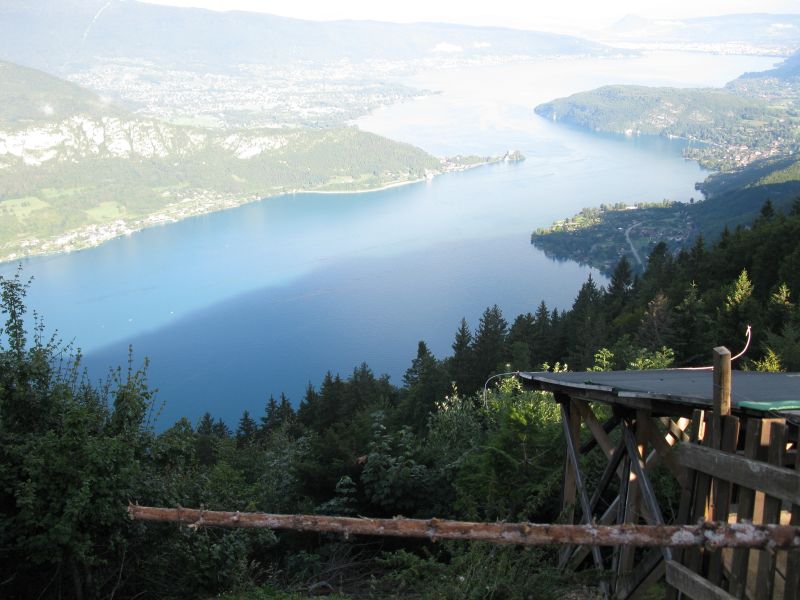 Lac Annecy Col de la Forclaz Panorama frompass Forclaz auf Annecysee
Annecy-Lake
Straight from the village the first pass
Col de Leschaux
started in the morning.
The pass sign:
Col de Leschaux
I found on the way back from Cret de Chatillon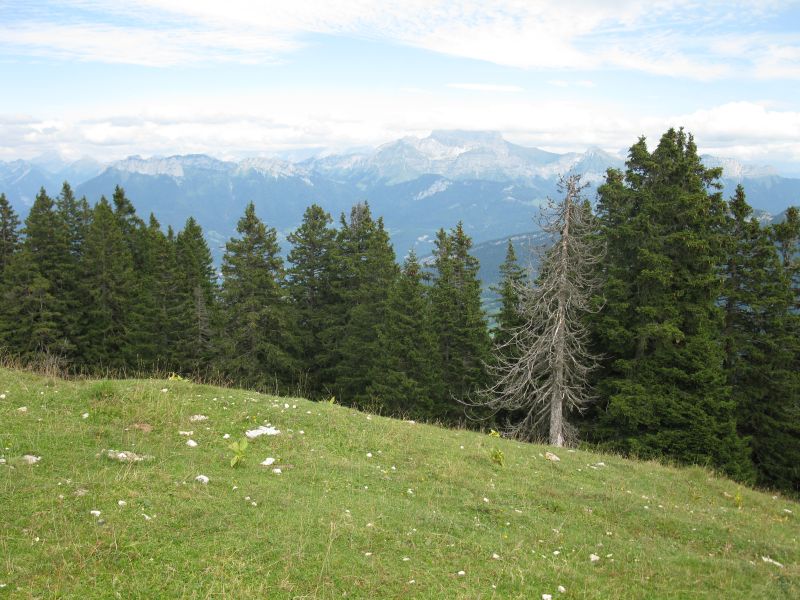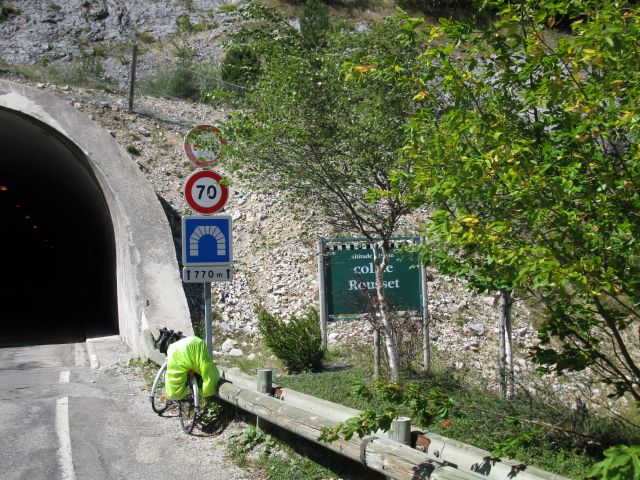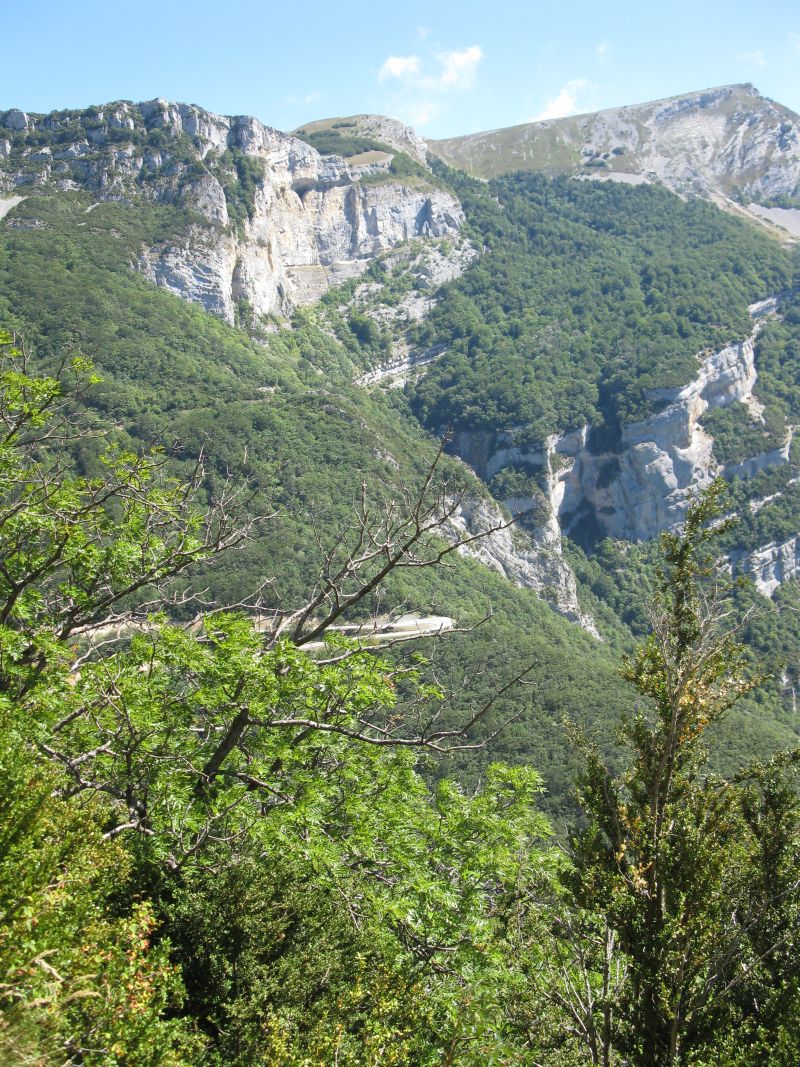 Crét de Chatillon Col de Rousset Panorama during descending
>>> trip to Crét de Chatillon *( 1699 m ), then Glapigny , Lescherenes, Lenoyer
Col de la Plainpalais
(1172m), Chambery
Camping La Ravoire (near Chambery)
III. day


Col de Granier (1134 m )
Entremont la Vieux, St.Pierre de Entremont
Col du Cucheron (1139 m)
St Pierre de Chartreuse,
Col de Porte* (1340m)
.
One square in
Grenoble
, with the old church and the statue of one soldier of
Napoleons
, the embankment of
Isere-river
.
That was my place for lunch rest.
The first gorge
Gorges de Boume
in the Montagnes de Lans mountain.
Camping : in area of Villard de Lans
IV.day
Villard de Lans, on the way to the pass
Col du Rousset
under beautiful alley of platanes.
Panorama on the descending
,
Chamaloc, typical mountain village
.
From here I came
to Chamolac
Die , the valley of Dome river,
Rhone river at Pouzin
. Lavac : Camping at a farm .
V. day


first pass:
Col de l Arenier
, second one
Col de Escrinet(781m)
itinery later on :Aubenas, Joyeuse, Lablachére, Villefort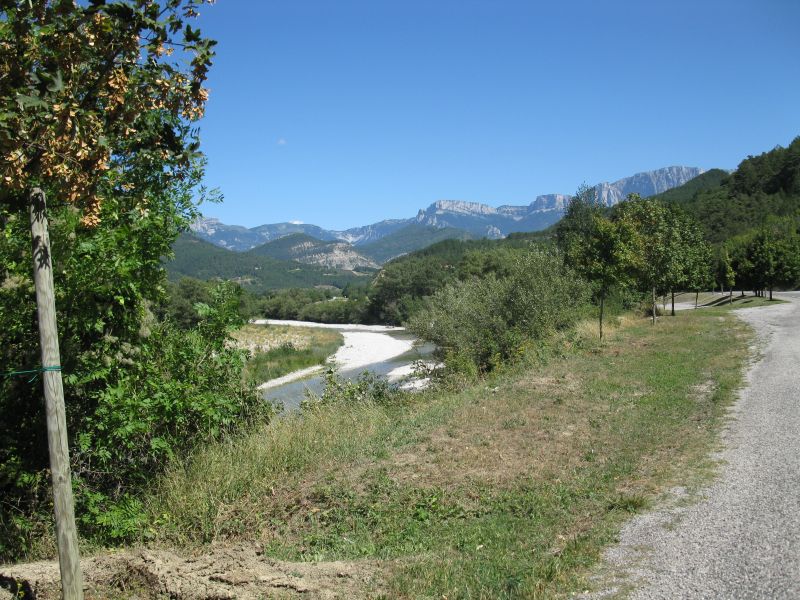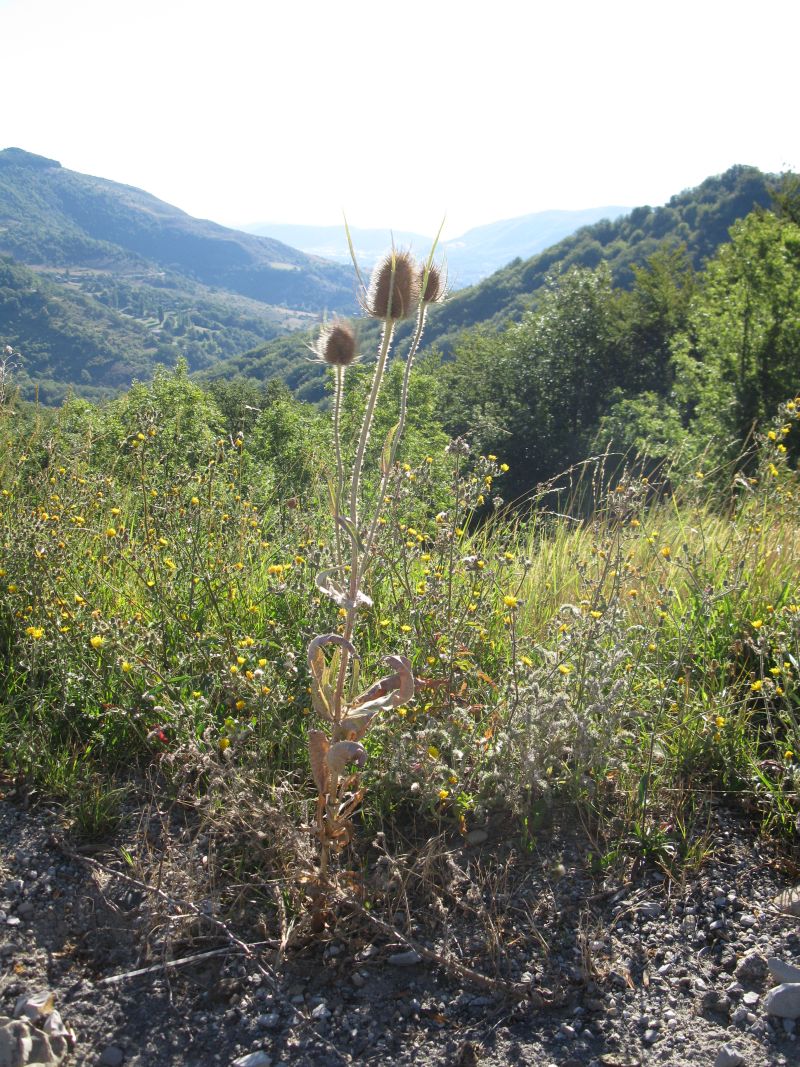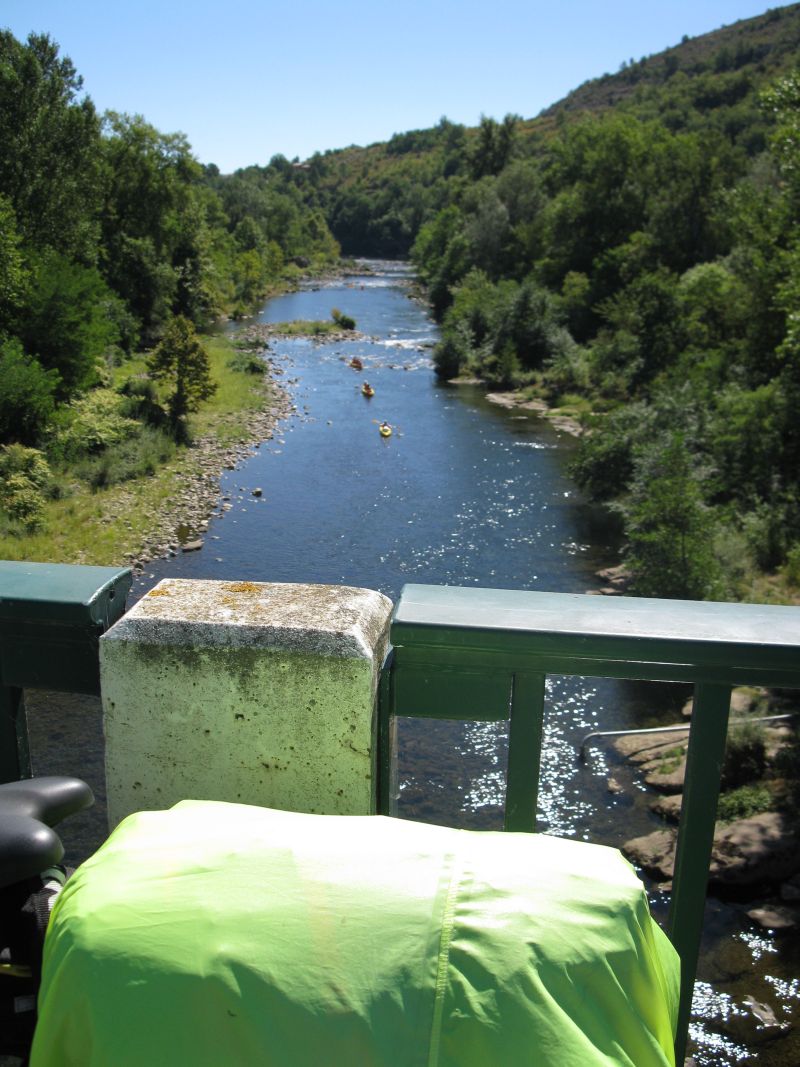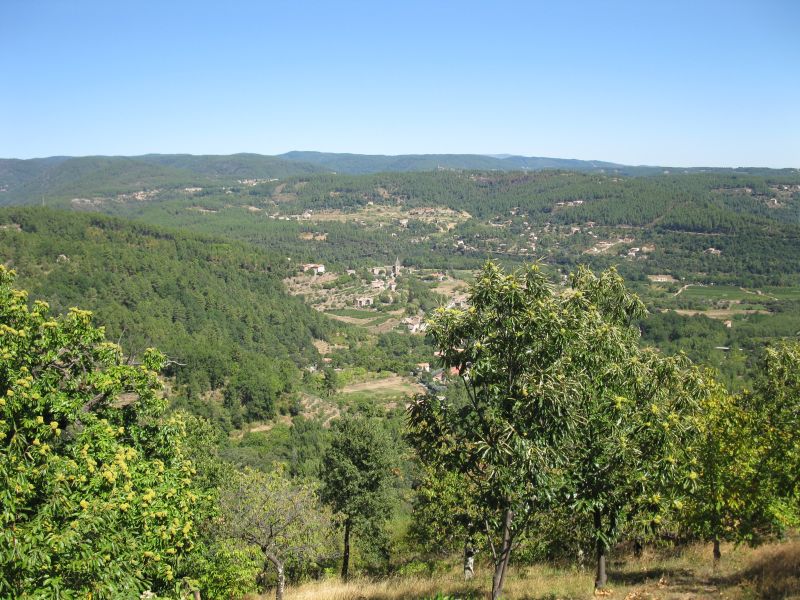 Valley of Drome, place for lunch rest Col de l Arenier Raftingers on the river Ardeche Panorama in Massif Central
Cathedral
in Mende, its
Facade
.
Streets in the downtown
with one
"Duck"
,
"Vival"
shop.
Camping near the shopping center in Mende
VI. day
I am cycling already on the
highway
, after still 25 km on the motorway !. After some signs "In your interest the motorway has been video watched " I decided to exit the motorway. Finally after 50 km long "trip" returned to Chanac, to my startig point 50 km earlier.
On the way I became hungry. In that
river valley
I had a relaxed at this rest place. I could see here eight tree species.
On the way to the gorge of Tarn river on a
dry Plateau
. The first glance was already
overwhelming
.
I descended lower and
lower
during to the valley .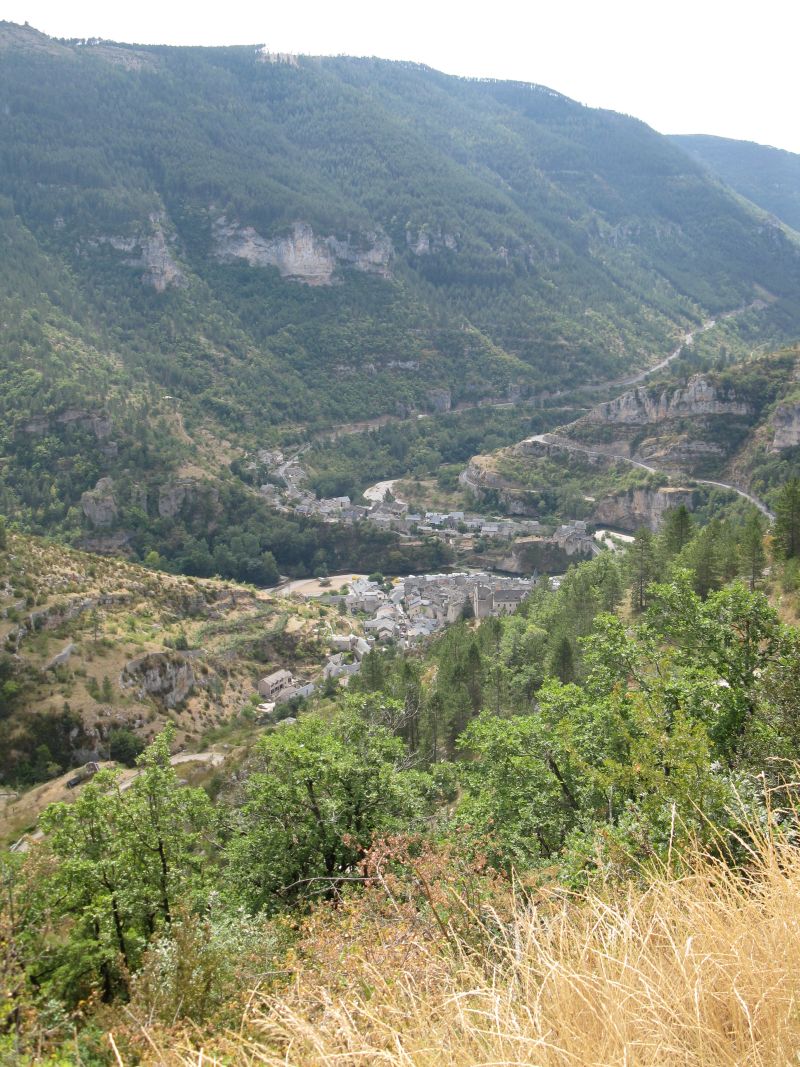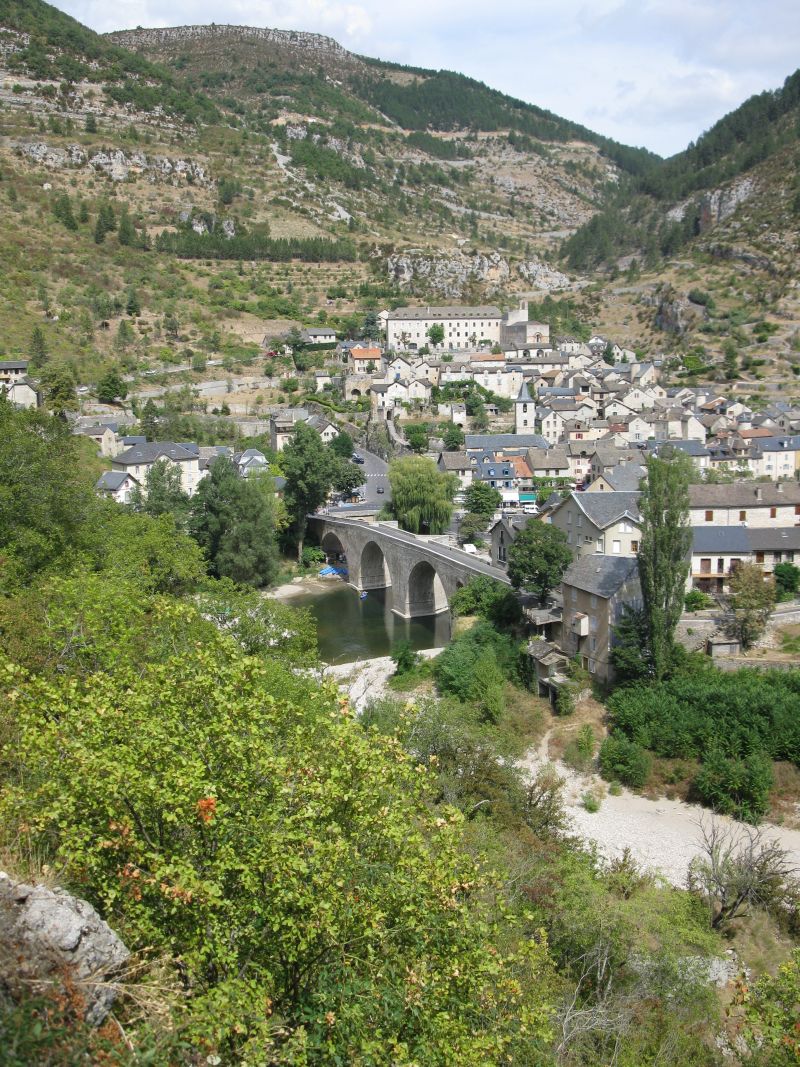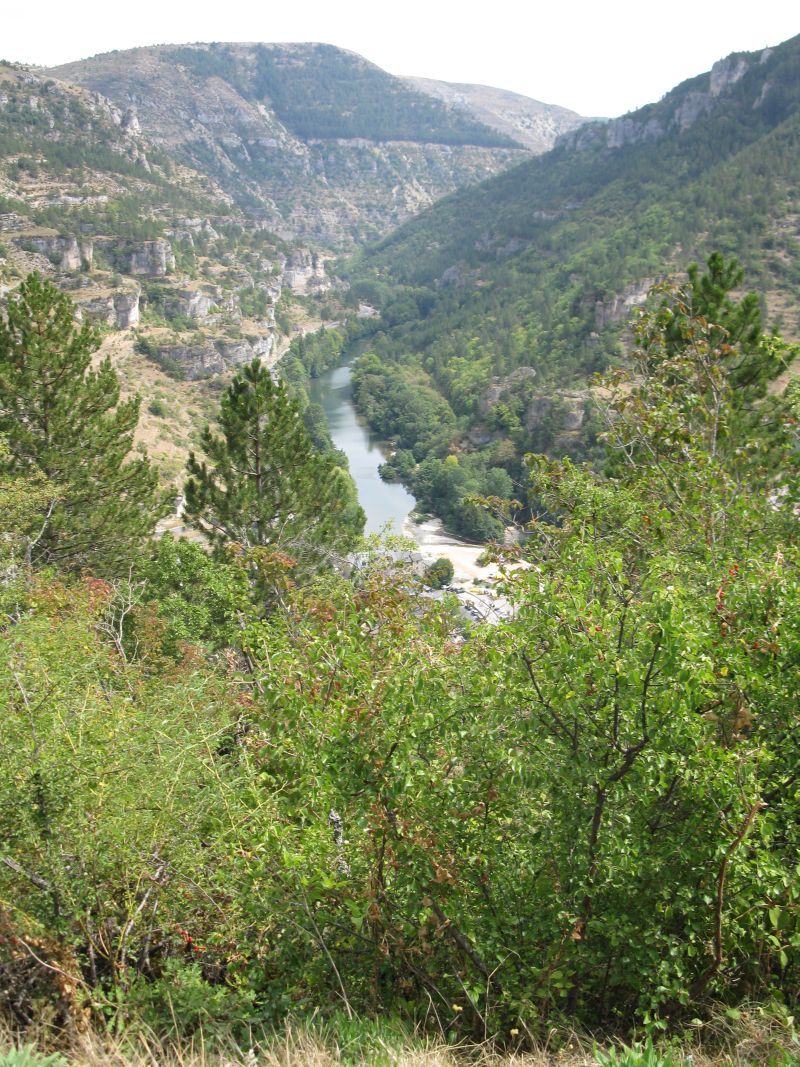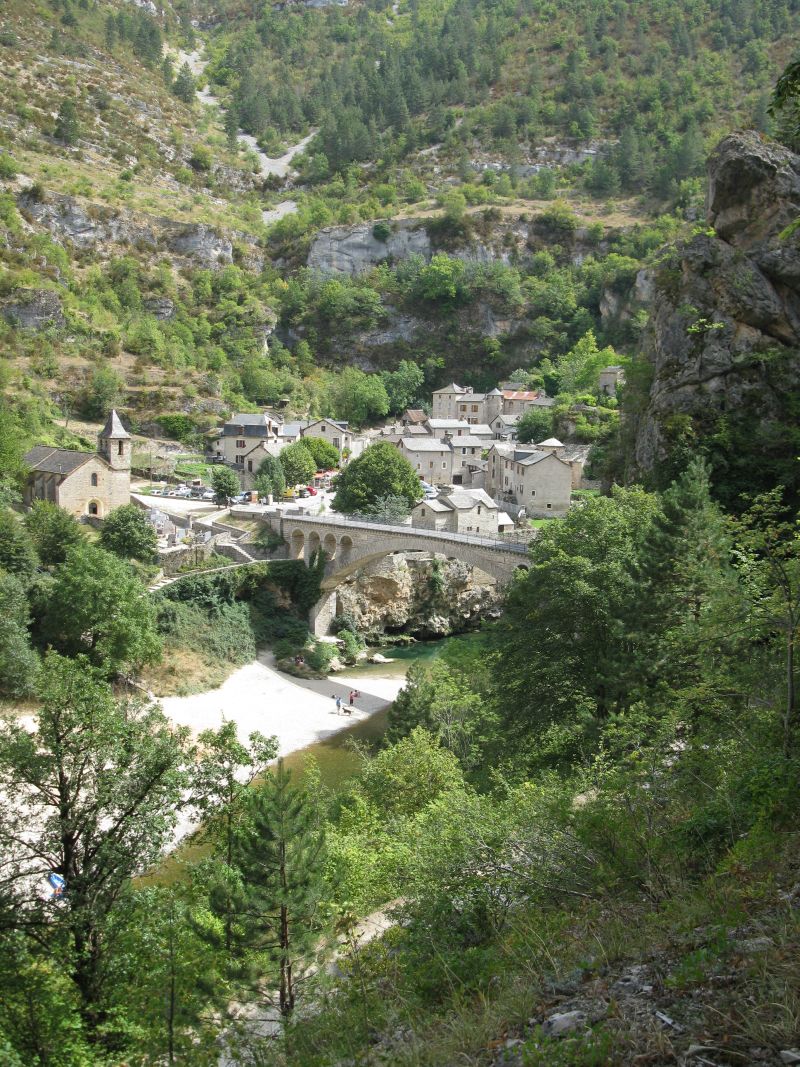 Gorge du Tarn Gorge du Tarns Gorge du Tarn Viadukt of Millau
About
twenty km
I cycled in the narrow gorge. Small towns :
St.Chely du Tarn
.
Lots of roweres
that means
raftingers
I saw
in small groups
.
In this
castle hotel
a double room costed 250 € , so I kept on staying at camp sites for 6-8 €..
Such
small settlements
I found in certain distances. The products will be transported by
winch
to the other bank of the river.
This was the only
bridge
on the 29 km distance to Meyrueis.
Camp site on the sport ground of Saint Affrique.
VII. day

Saint Affrique
in the morning.
Massif Central
:mountains in the middle of France. The square of a small
town
,
narrow lanes
.
Col de Picotalen
1004 m, Lacaune,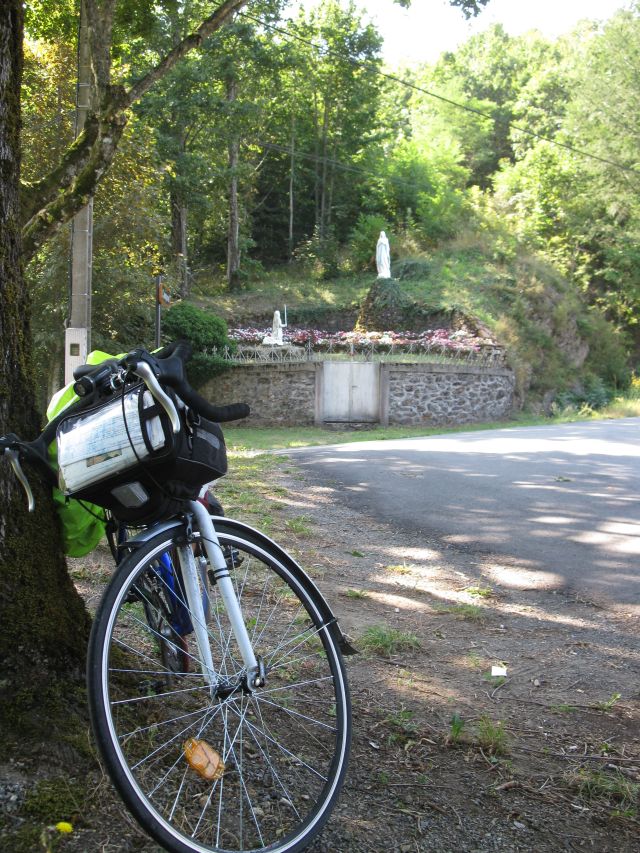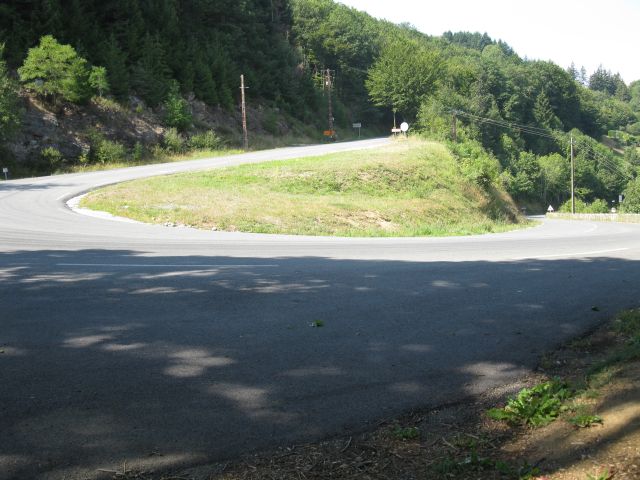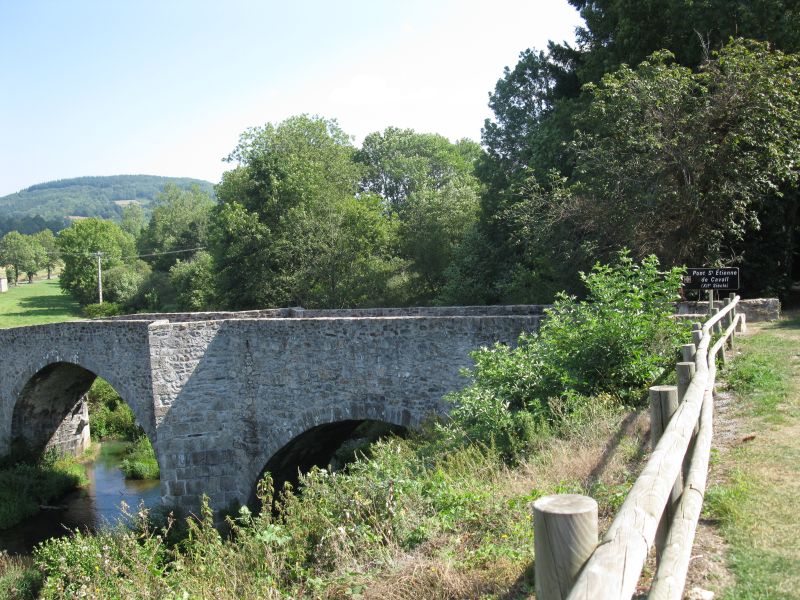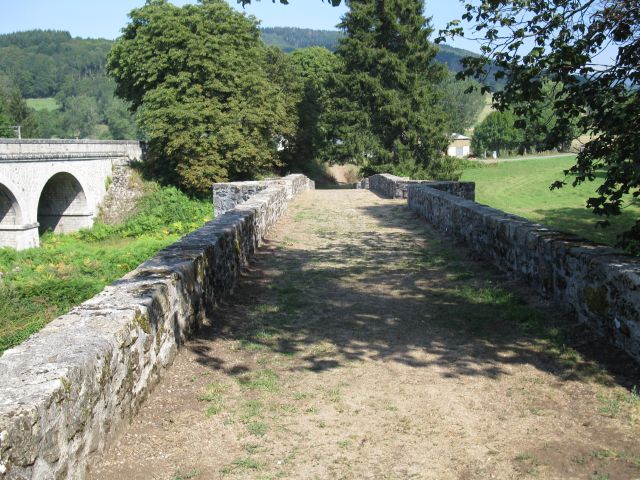 relaxing at lunch time the way to the pass sawn from a bench Pont St.Etienne de Cavall XIIIth century bridge on way of st. james pilgrimage
Col_du_Cabaretou
in 2010 the "Tour" rolled over. Then St. Pons. I climbed the pass
Col de Rodomouls
, unfortunatelly I could not find any pass sign.
Col de St. Colombe
. I lost my way again. In big heat I cycled about 20 km in vain.
At least I could have my chain,sprocket and gear in a garage lubricated. I saw also Canal du Midi. Here is
a link
as a sample, for I was in a hurry, not to be able to stop. I knew that I am going to arrive late to Carcasonne.
The fairy tale town of
Carcassonne
in the shine of the downgoing sun.
Camping in Carcassonne : Cité ca. 9-10 € .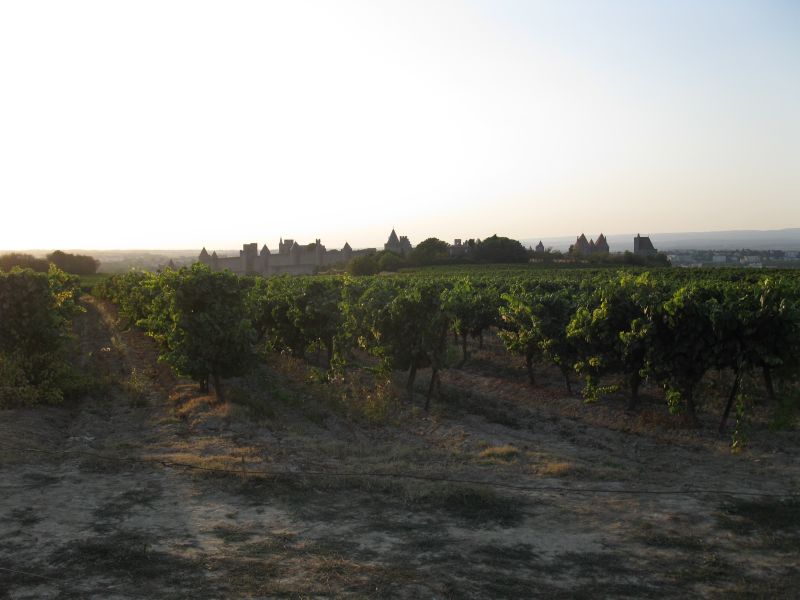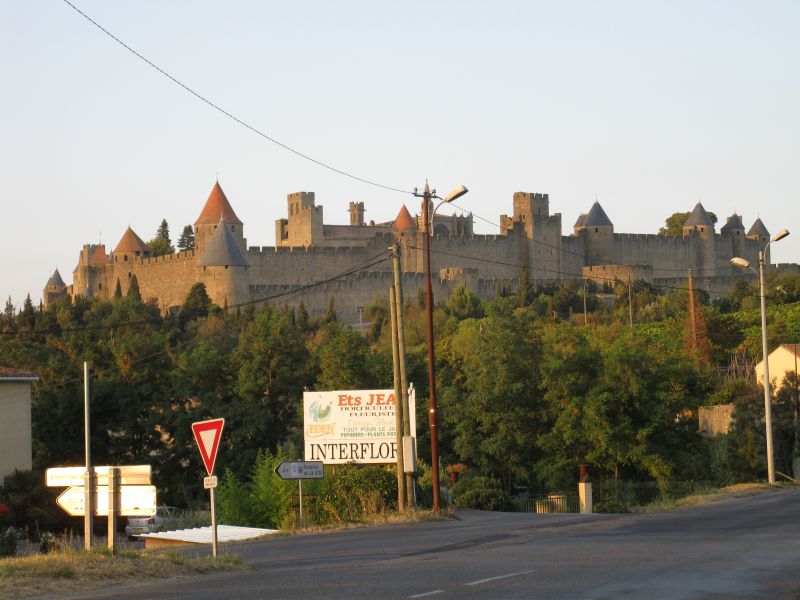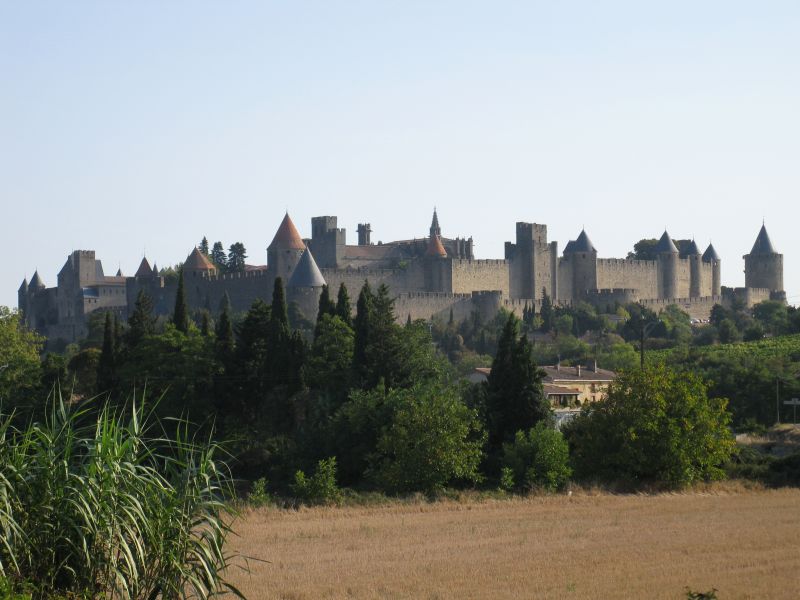 Carcassonne behind the wine gardens Carvassone fairy tale view of Carcassonne



VIII. day


Carcassonnes
fortified walls
sawn from the grave yard.
Guest house in Carcassonne
.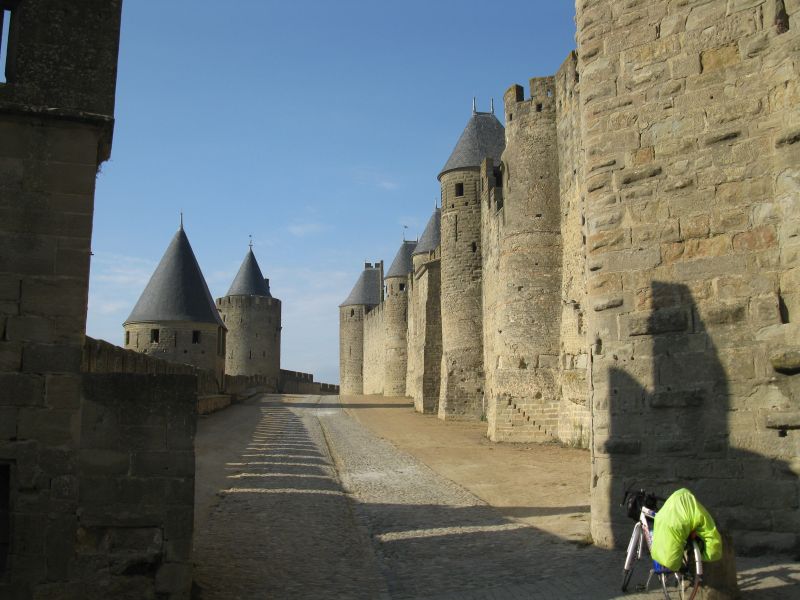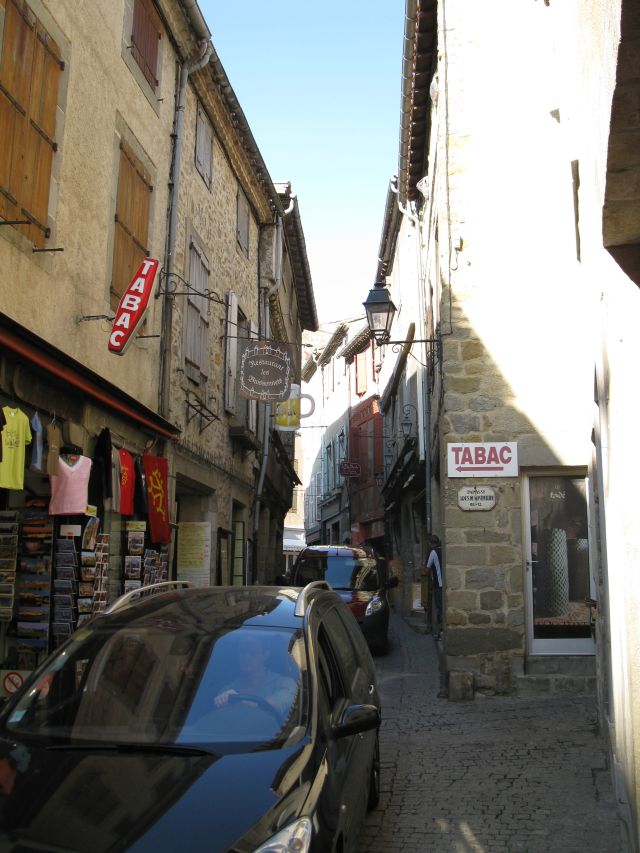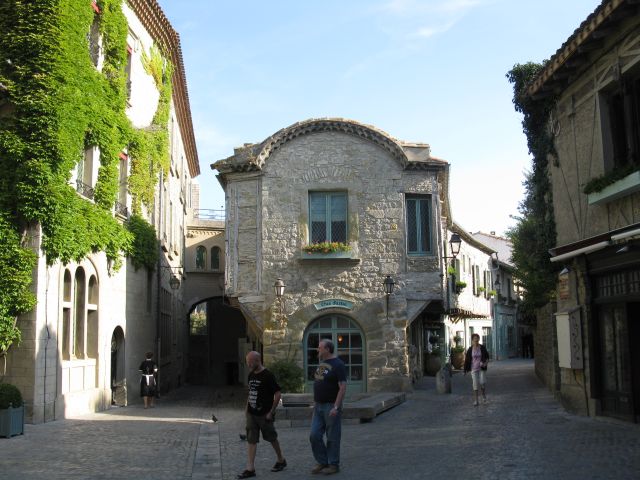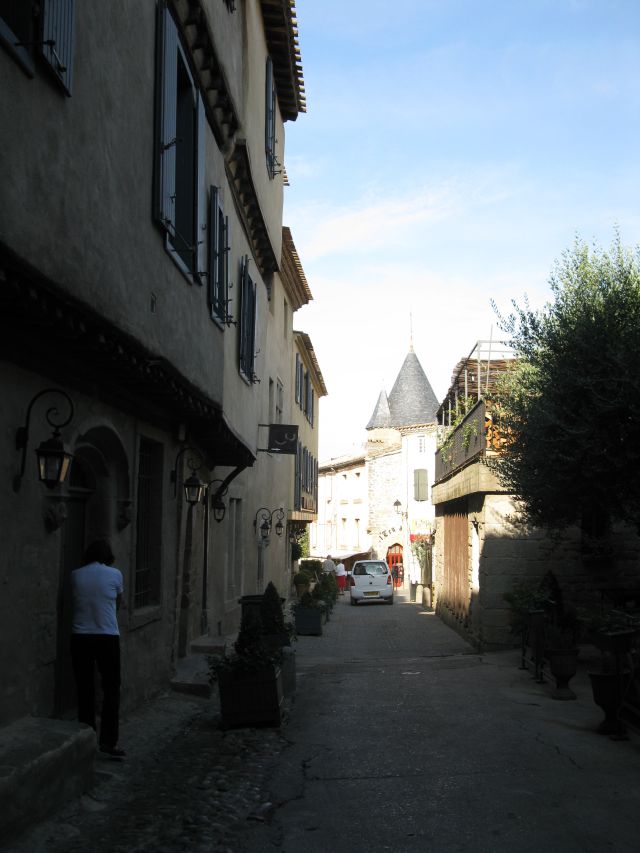 Carcassonne's double walls Carcassonne Carcassone Carcassonne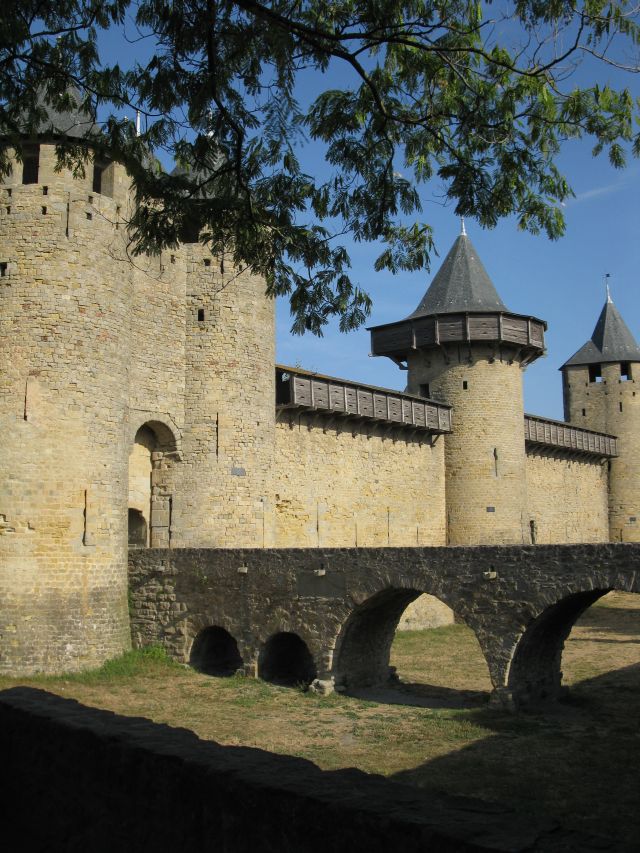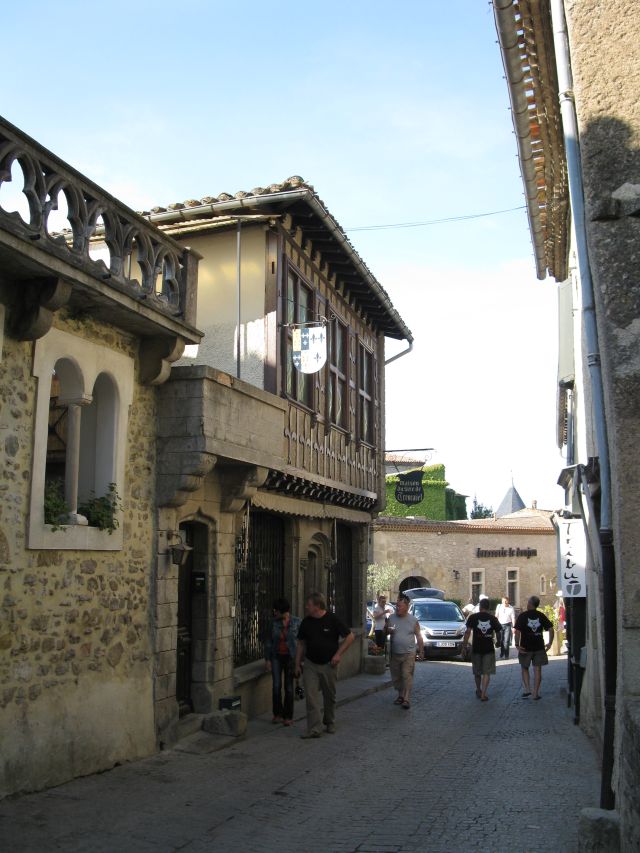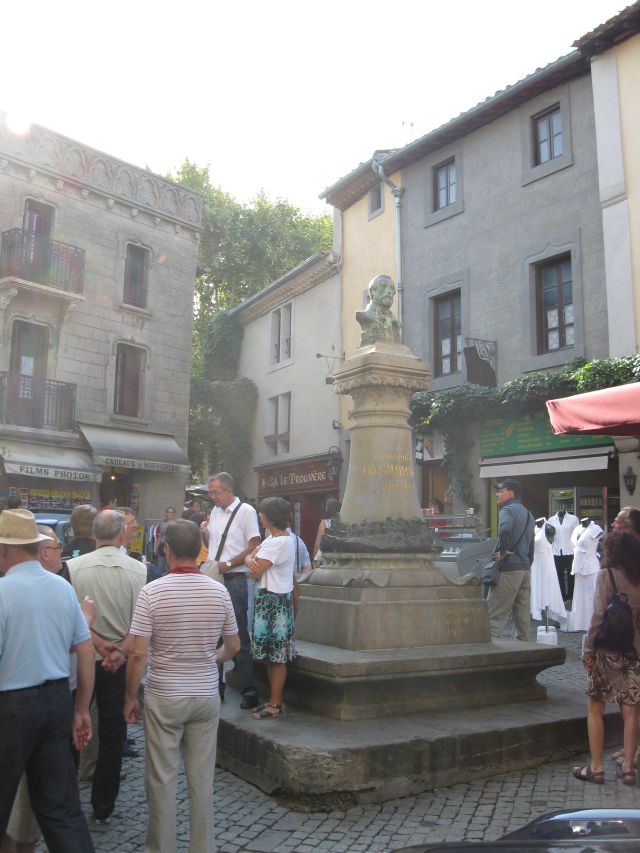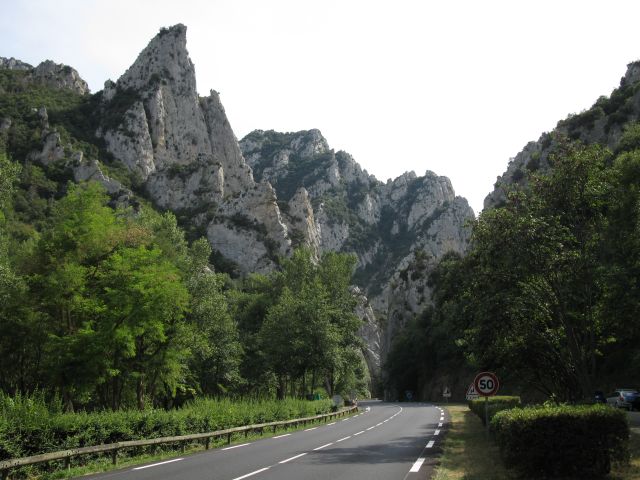 Carcassonne Carcassonne statue of Violett de Luc, he renovated the town at foots of the Pyrenees
The first gorge of the
Pyrenees
: Gorges de Pierre Lys. Named after a French pastor, who has a 300 m long tunnel cut by local people by simple pics in the XVIIIth century.
According Napoleon it is a shame, because this man could have been a brave soldier (of mine ).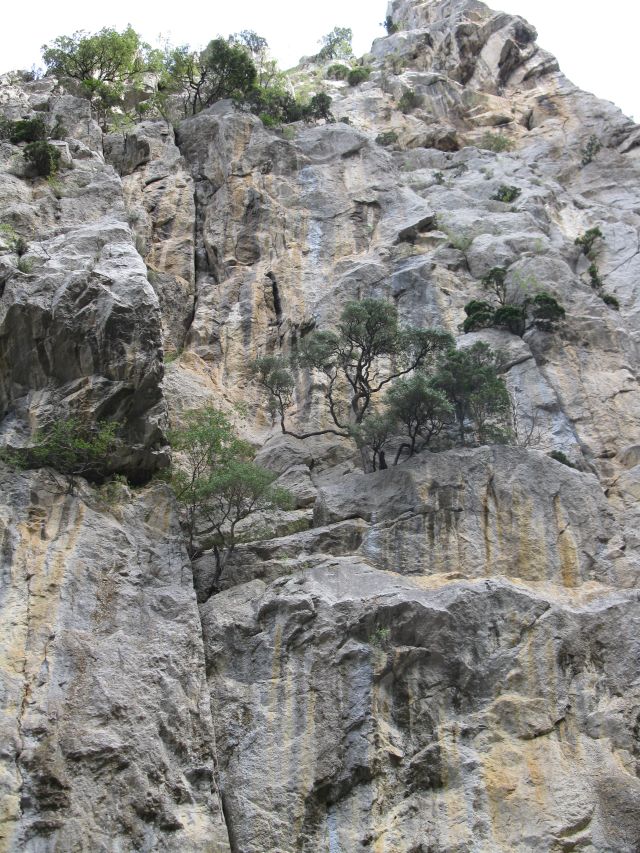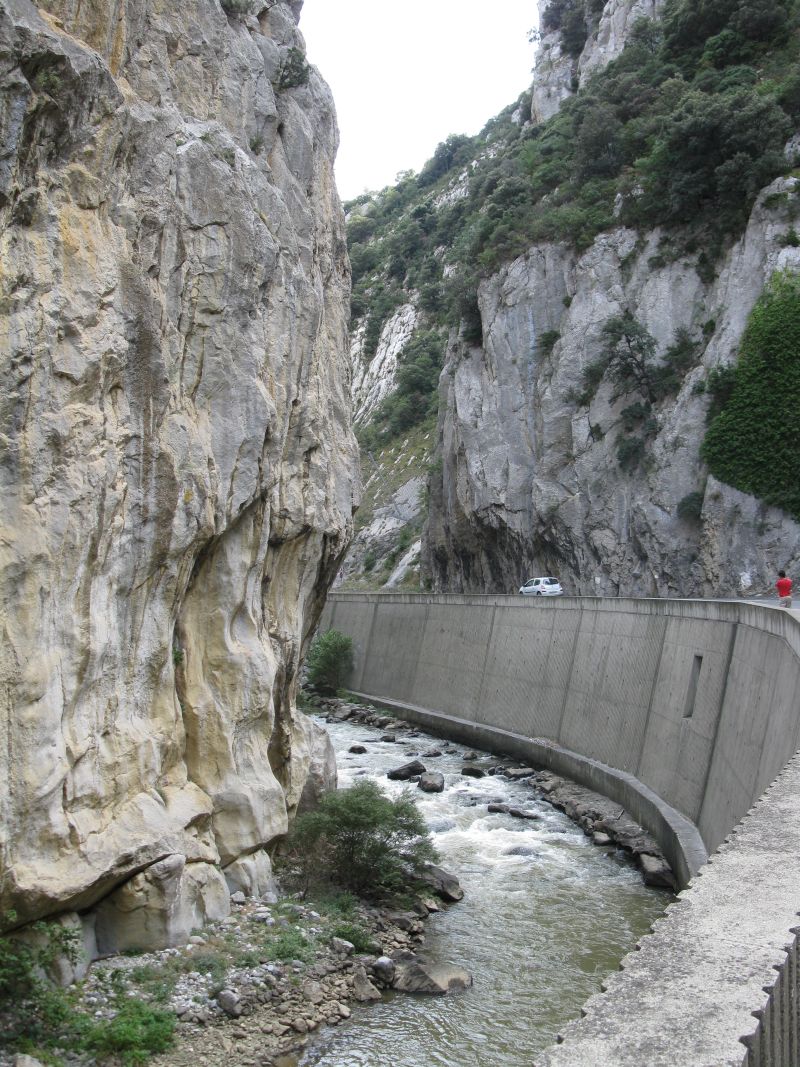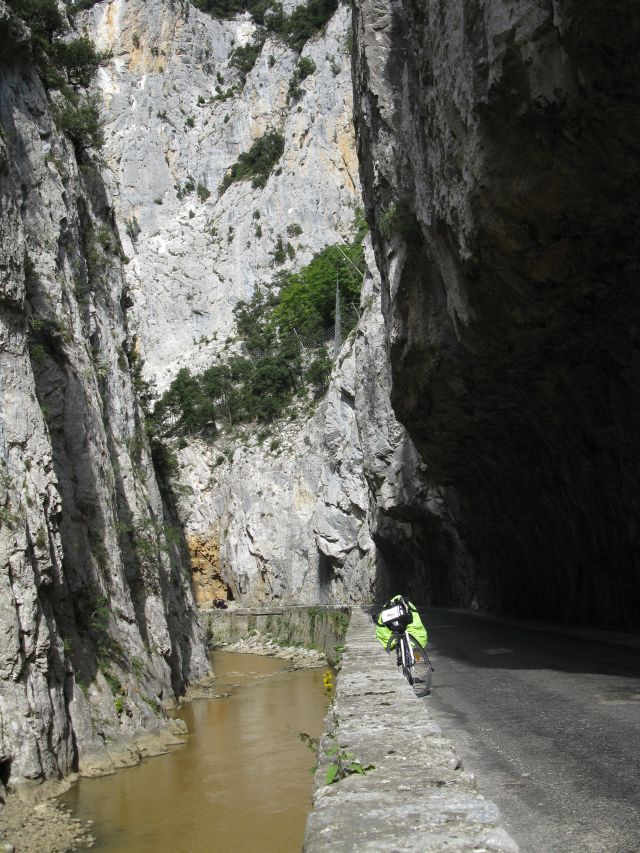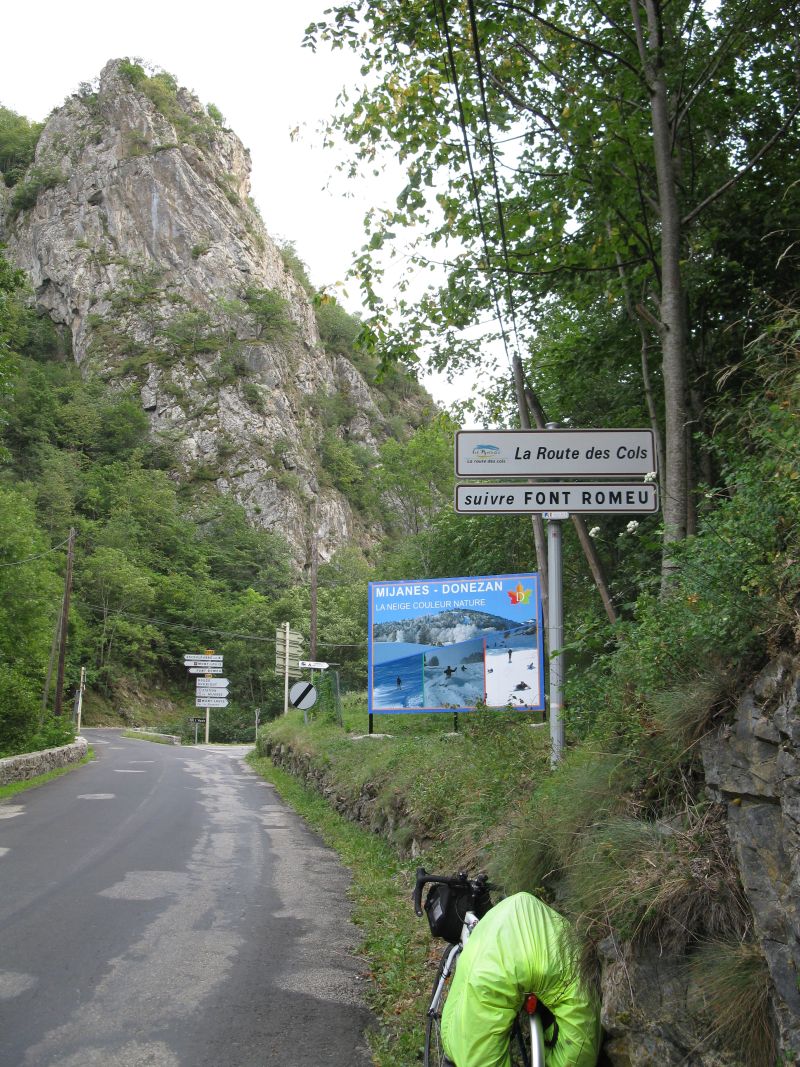 Gorge de Pierre Lys board of the roads of themountaain passes
Pump storage hydroelectric power plant
at the Aude river near Axat.
Pleasant camp site in Qerigut
IX. day
I reached Formiguerest (1506 m ) during a medieval festival.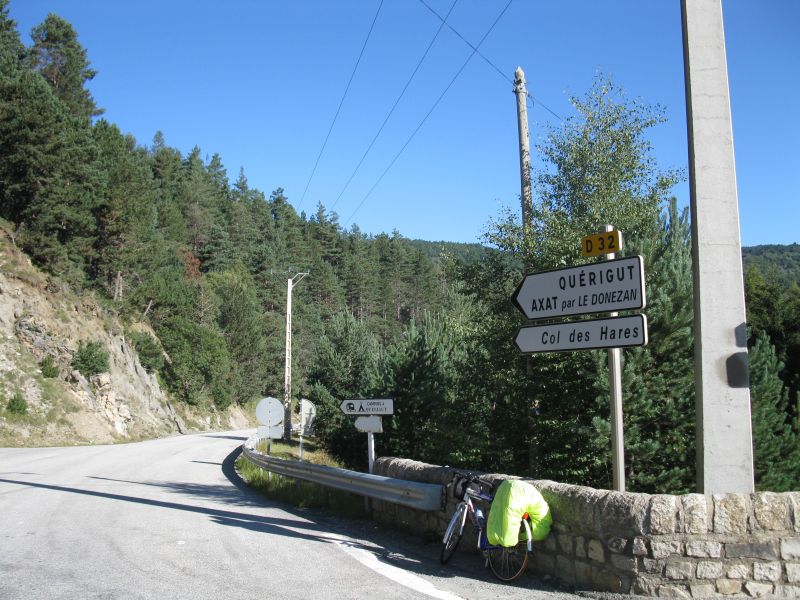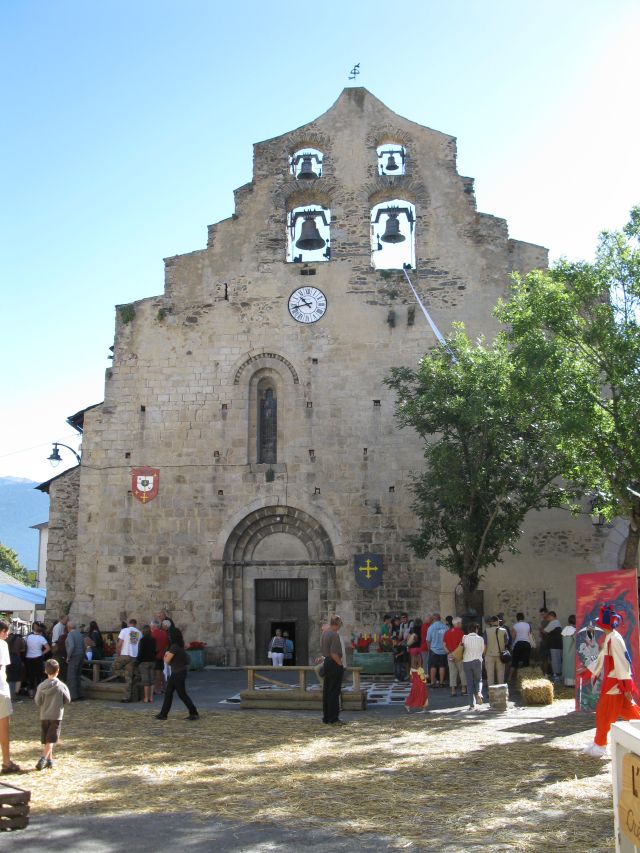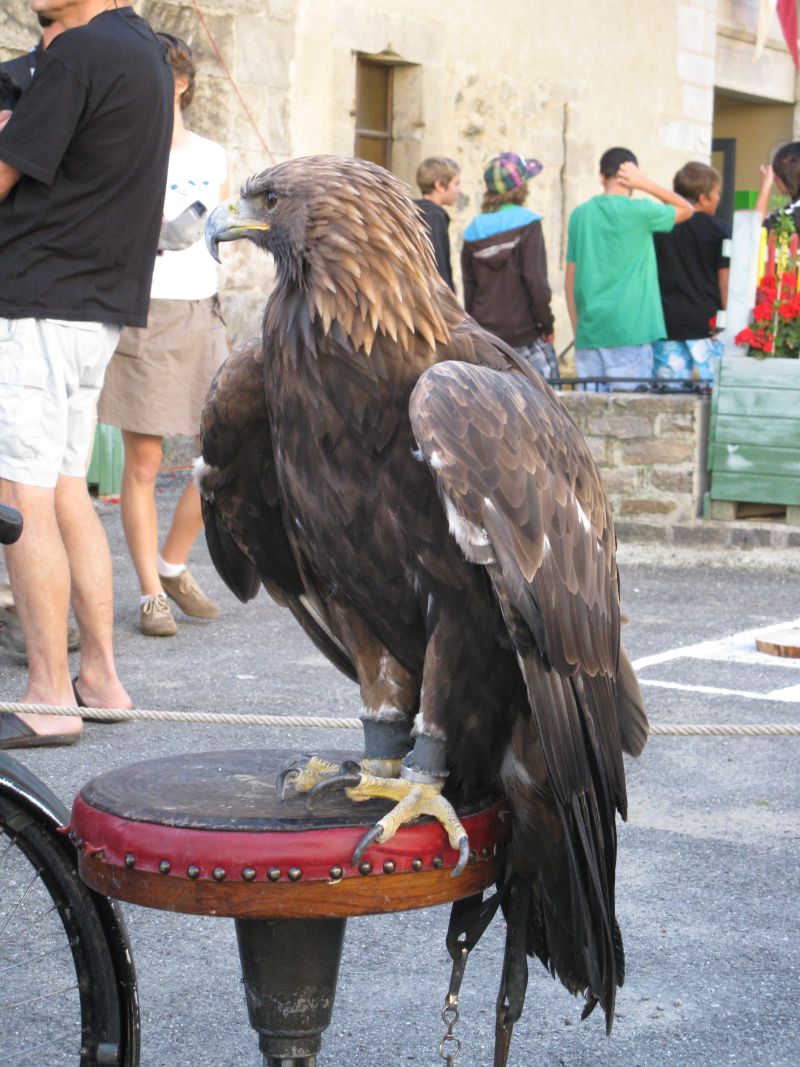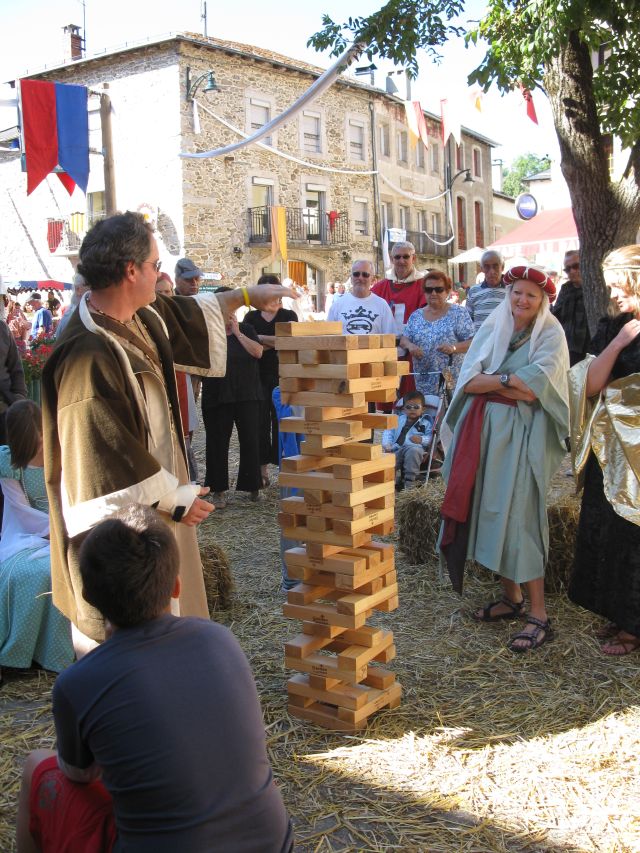 Le Col du Feu Mitteralterliches Festival in Formigueres
Mayor s office
functioning in the same time as a tourist information centre.
Beef is being roasted
Falconer
.
Owl
.
Baker
, the main
Road
.
Archers stand
,
Stilts
. Mont Louis , Bourg Madam.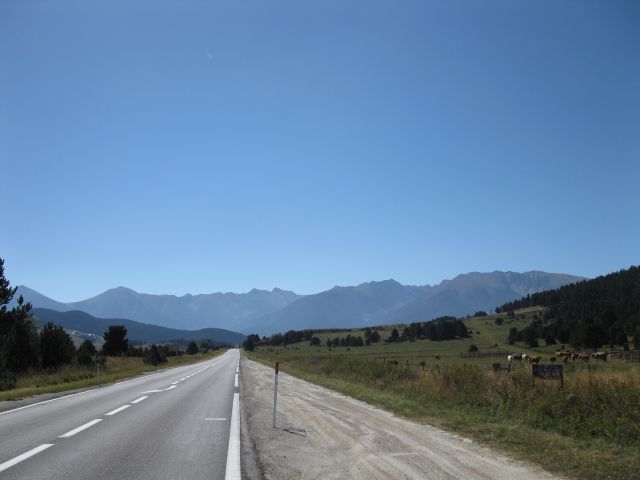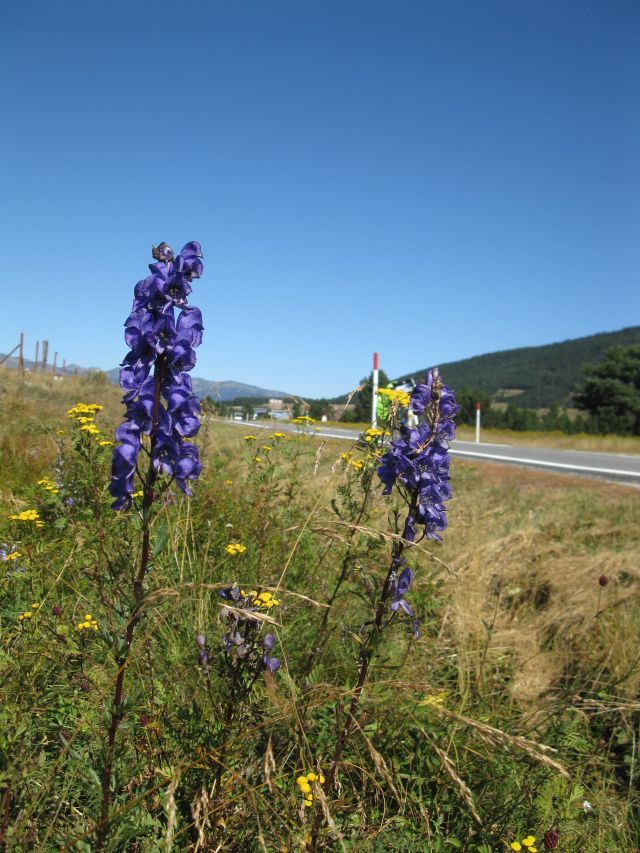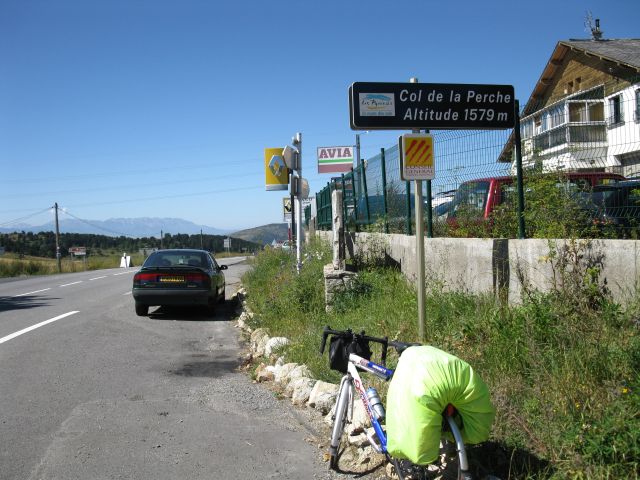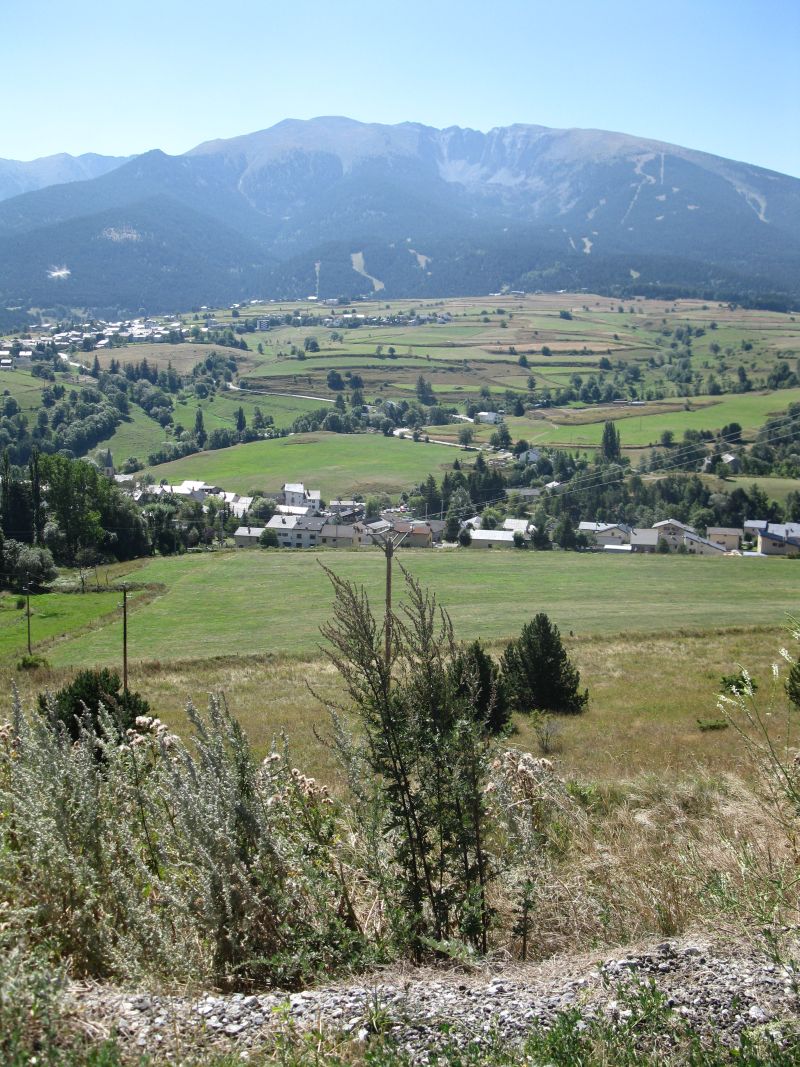 Pyränen und ihre Blumen am Flugplatzt Col de la Perche Pyränen
The mountain chane of the Pyrenees
Bourg Madam
, at the Spanish border. I wanted to roll across the border jus for fun.
From this place
sthe former border crossing point
looked like this . Just on the border a Spanish-Catalan bike shop was. In this shop the owner replaced my magnet of teh bicyclee computer. Even my drinking bottle was filled by ice cold water. All : free of charge !
They wished me a good journey and closed the shop Sunday after 1 p.m.
I returend to France in direction of Andorra.. View from my resting place
in the noon heat
on the way to pass Puymorens .
After a quick calculation I decided in the heat not to climb on to the pass, but returning to the camp site nearby in Tour de Carol. For I has not lost any day in my itinery because of rain. So I was able to climb some passes in the neighbourhood next day
That is why I slept two nights in the camp site in Tour de Carol
X. day
Street view
in the French Pyrenees.
Old church
at the mountain slope.
Mountain chane of the Pyrenees
. The Catalan language (lots of people speak it in this area) and the French are not the same, particularly if you do not speak any of both. So I climbed the pass Col de la Perche from another side the second time.
The tourist map I got in the tourist office was in Catalan , not in French....
.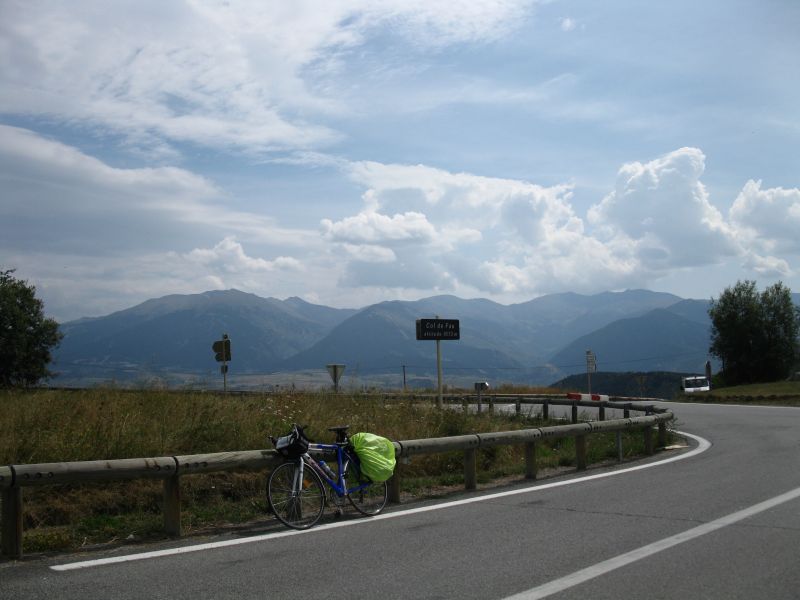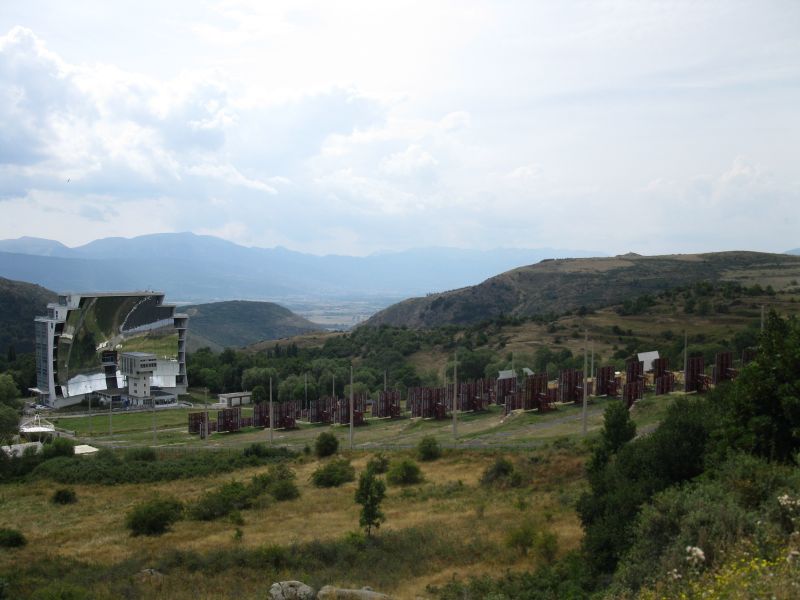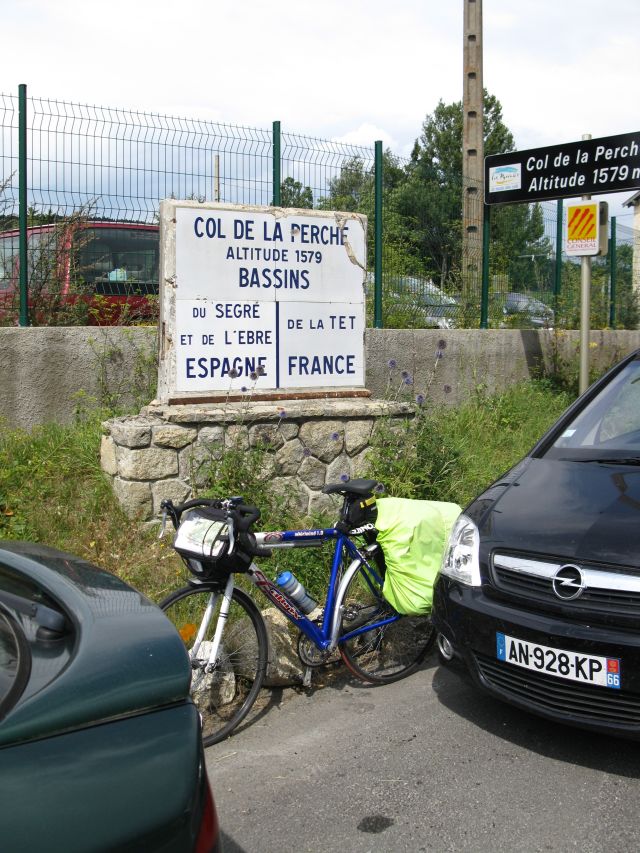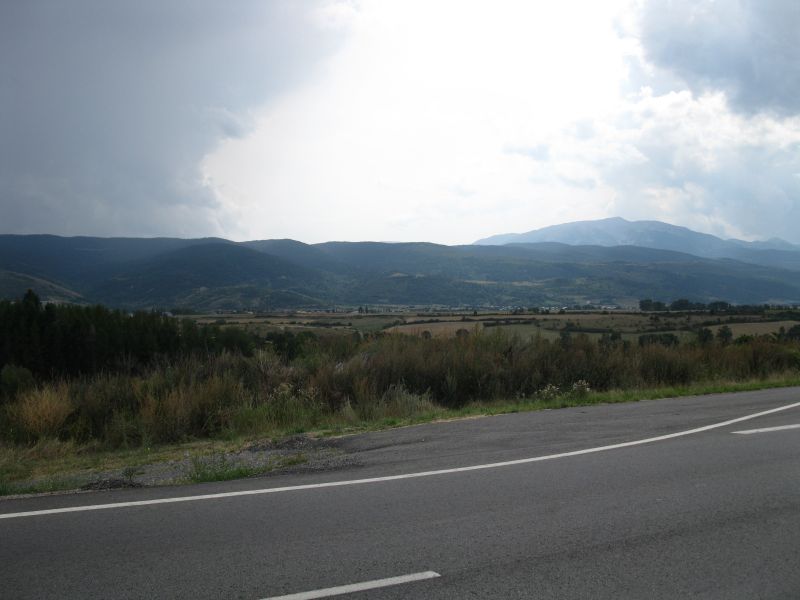 Col_de_Fau huge sun collectors (biggest in the wworld) Col de Perche thurnderstorm approaching in the Pyrenees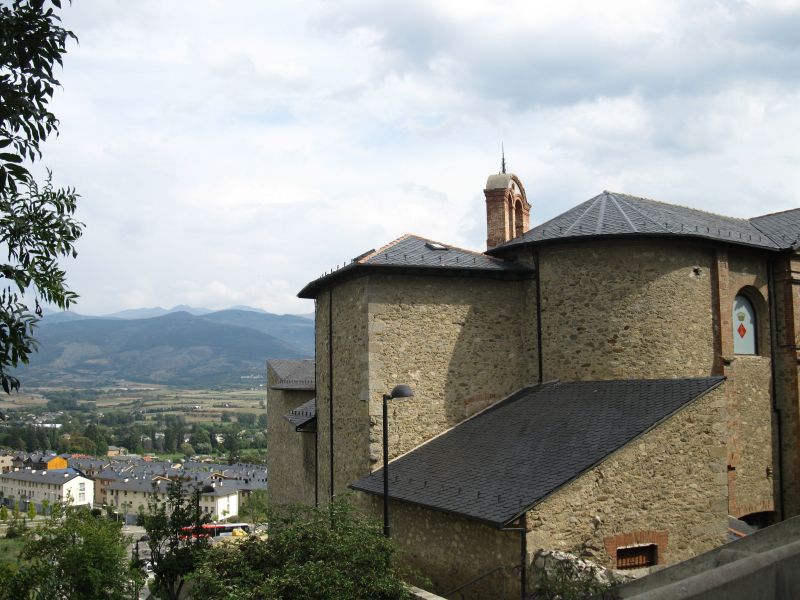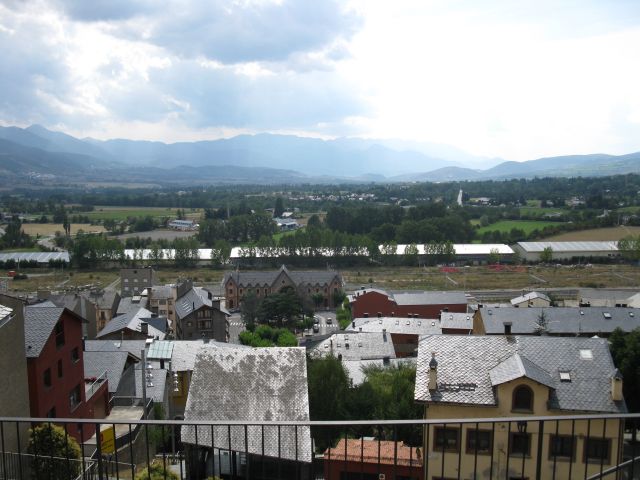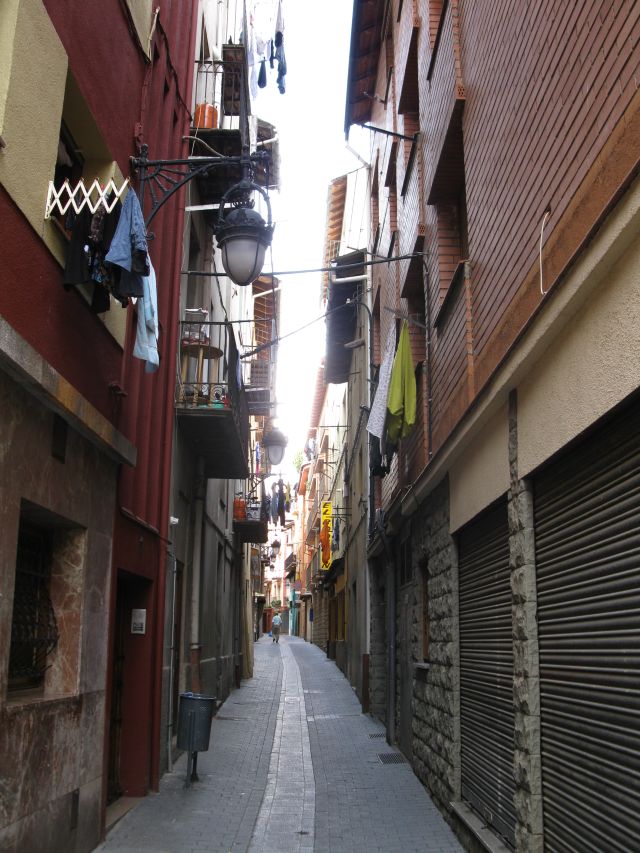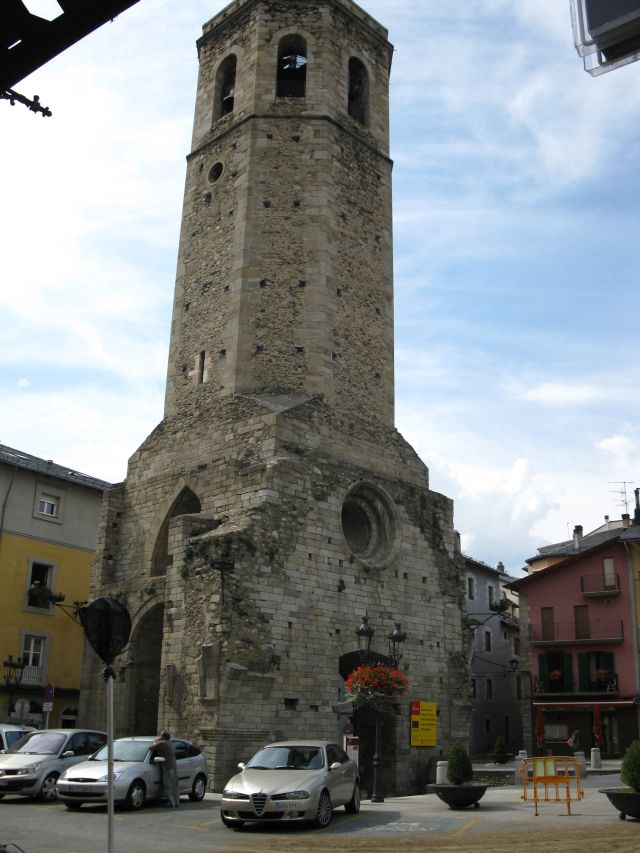 Puigcerda Panorama from Mayor s office towards the Pyrenees Puigcerda
XI. day



Climbing Col de Puymorens (1915 m ) made me real tired, but the view compensated it.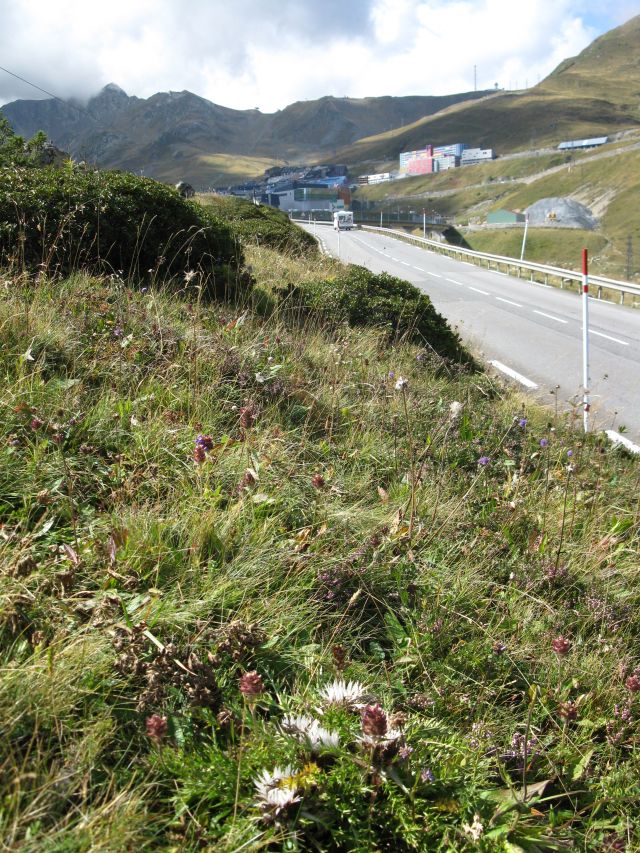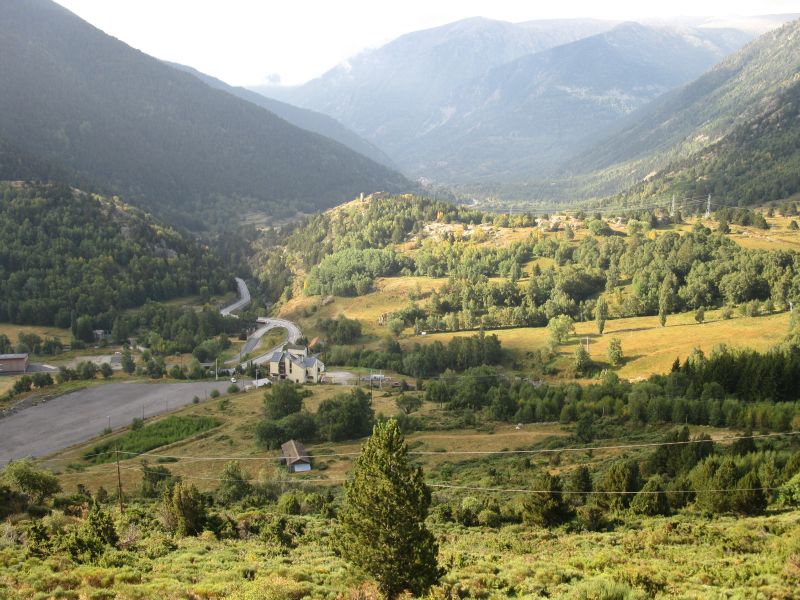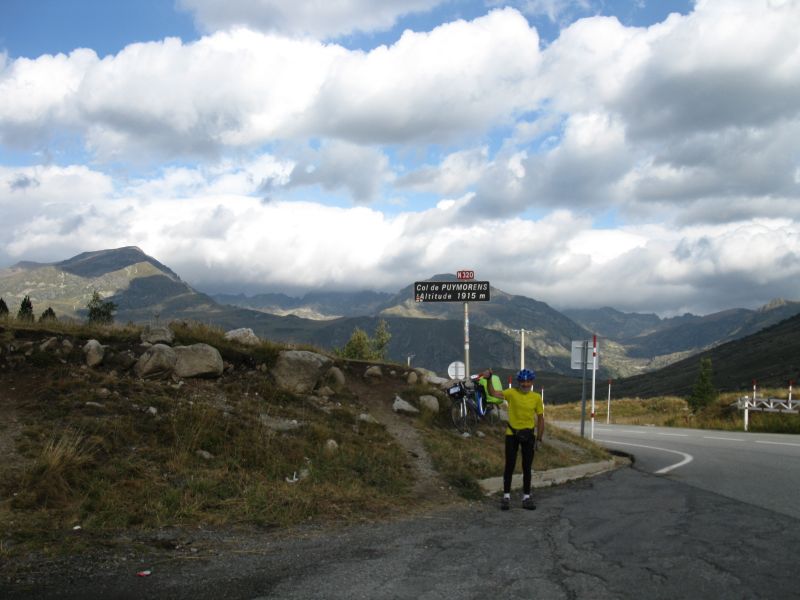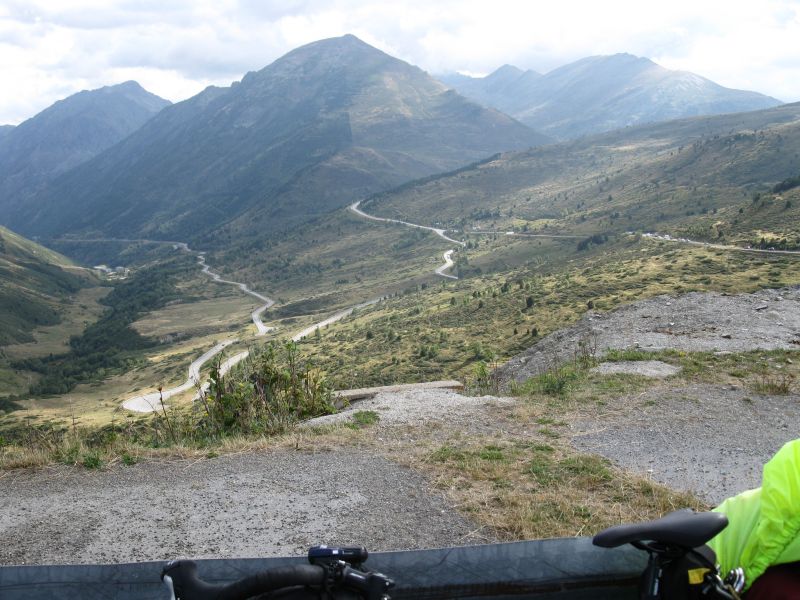 panorama from pass Col de Puymorens and during descending road to Ax les Thermes
In Andorra
a small town consisting only from shops
awaiting the attack of the French people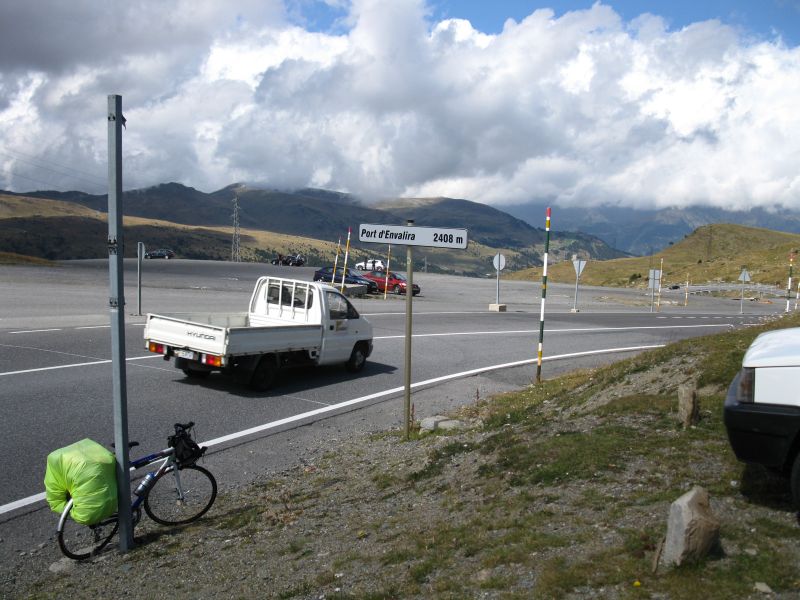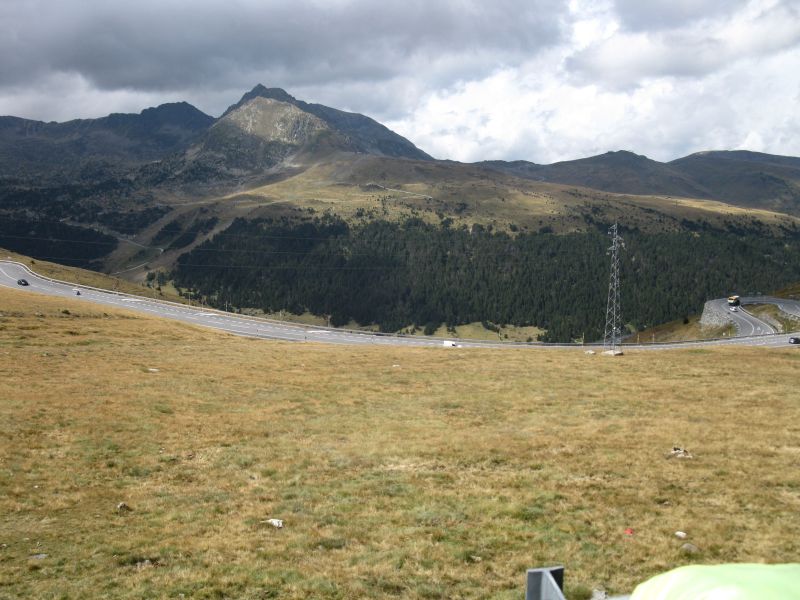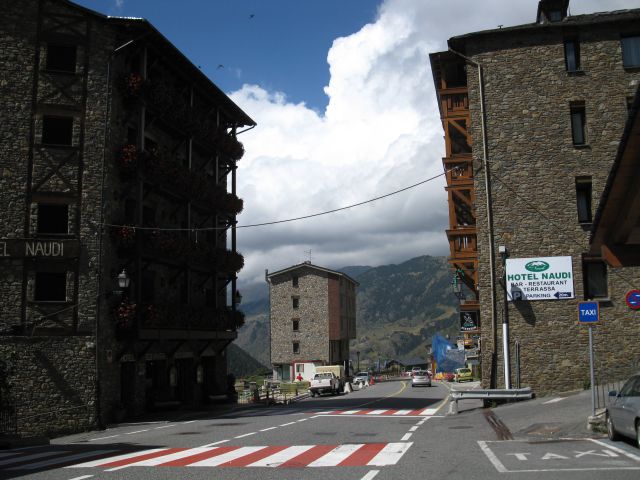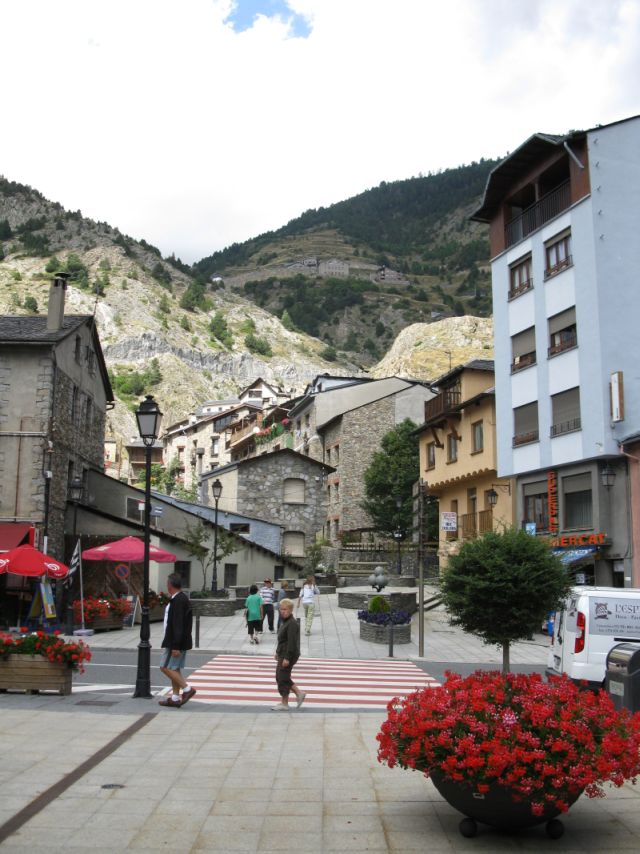 The first and in the same timefor me the highest pass in Andorra itig der höchste Pass Port d Envalira, Descend to Soldeu,with nice,new buildings all over
in Andorra Canillo
Climbing the pass in headwind was exhausting, I thought I would never arrive on the top. The last pass was
Coll d Ordino
in the evening.
After I was looking forward to relax in a camp site in Canillo, which was located at the filling station along the river Riu Valira de Orient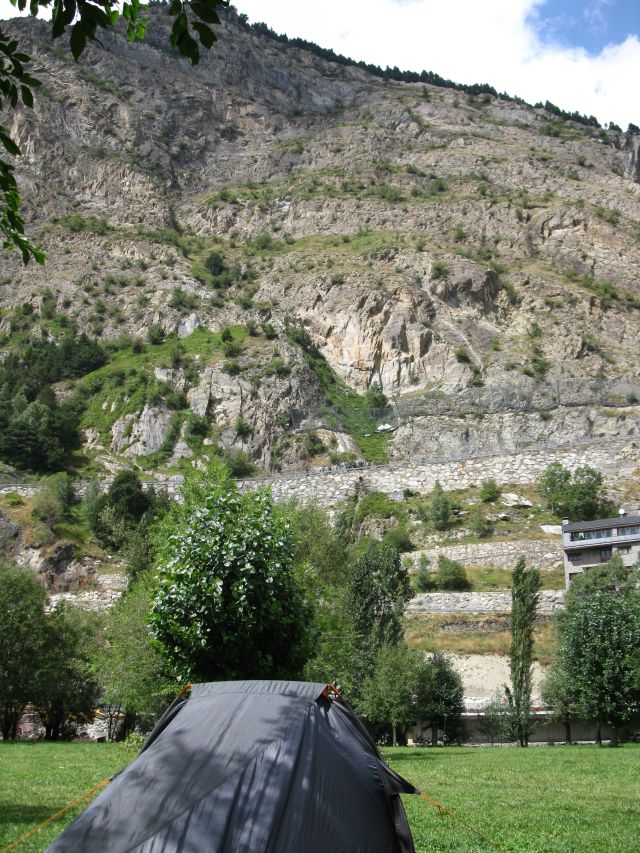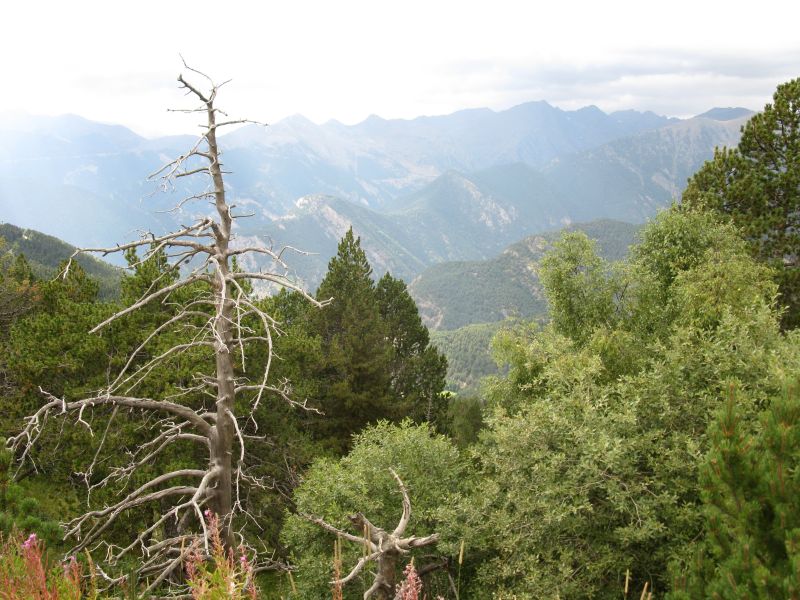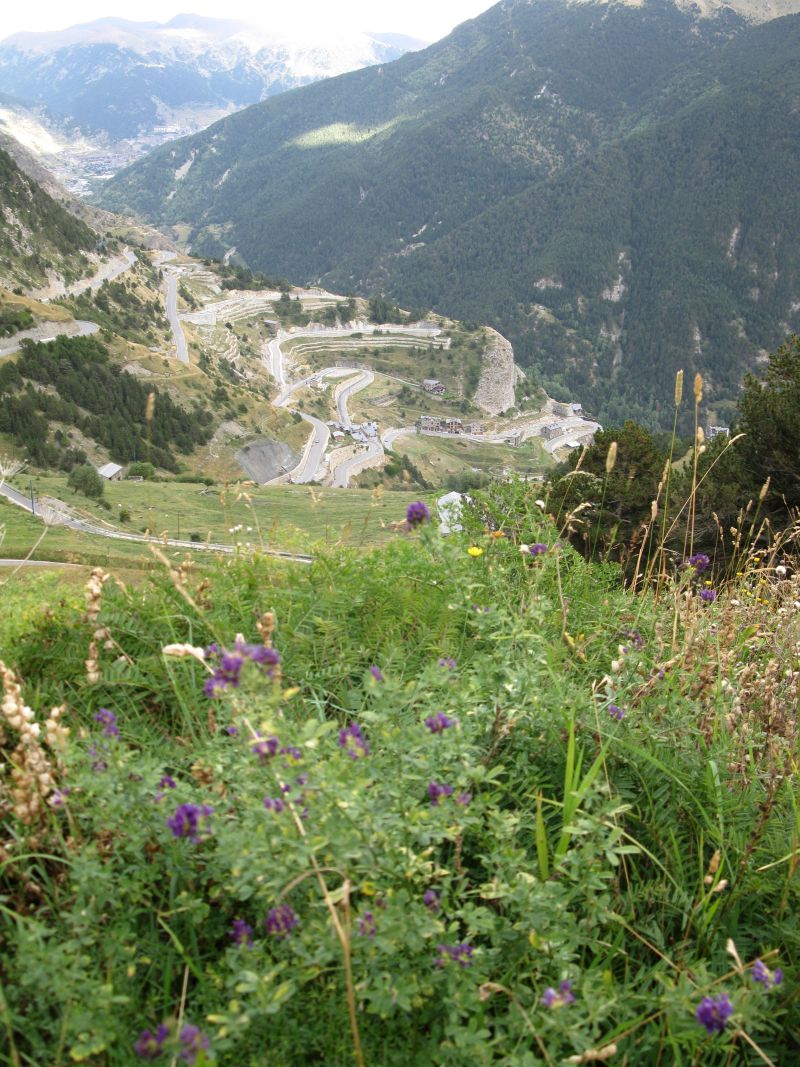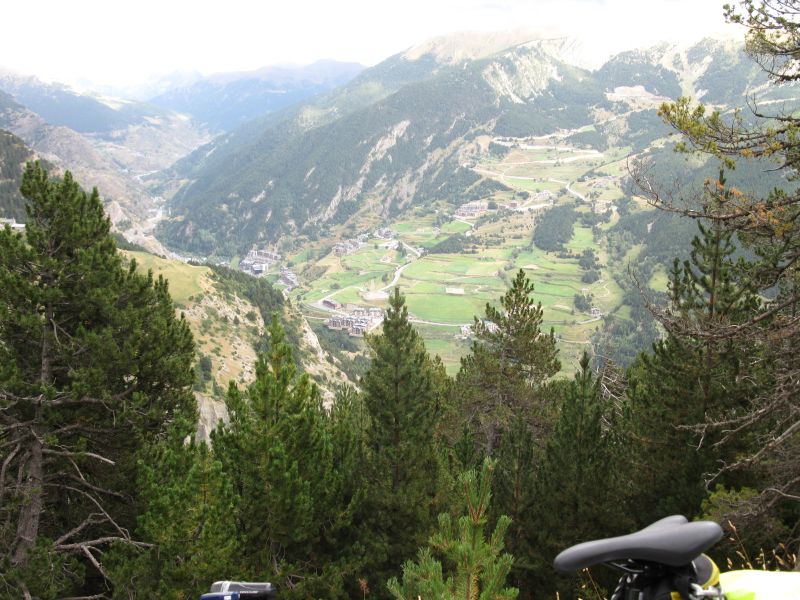 Camp site along the river , opposite a huge mountain Col d Ordino descending from pass Coll d Ordino into the valley
XII. day
El Forn
was the first mountain of the day ( 400 m level difference). After I cycled downhill to
Andorra la Vella
capital of Andorra.
A religious holiday was I met the convoy of the Grand prince even twice , shops were closed.
The sign of the second pass :
Coll de la Botella
I found only as I returned from Cabus. Vallnord Sector Pal was the finish of Vuelta on 1900 m .
Even one hour pior the finish of the stage there were places available 25 m before the the finish line.
Significantly fewer fans came to see the finish of the stage as at the Tour de France.
I did not think that time, that the here got Vuelta cap will be serving me well already next morning in the cold rain.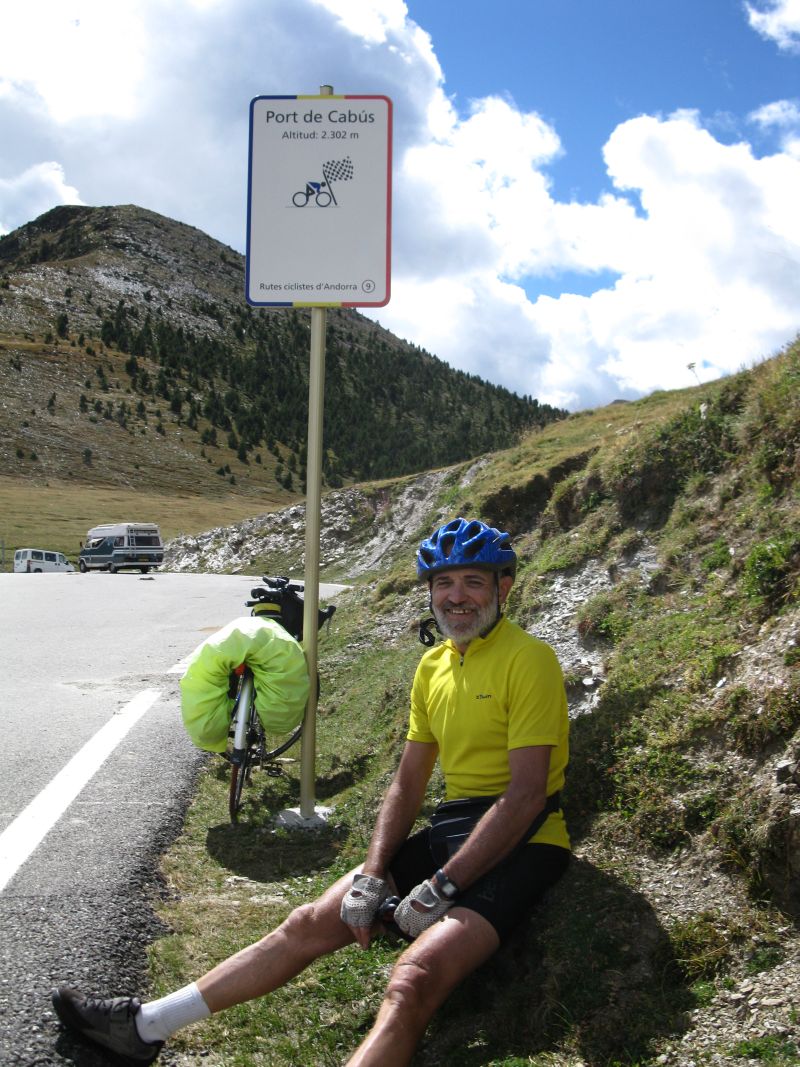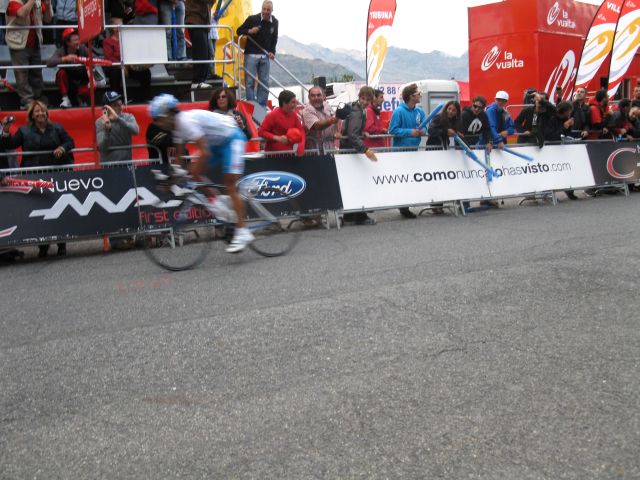 Col de Botella Port Cabús winner: Igor Anton Hernandez Mosquera wa second
Second was
Mosquera
, third
Tondo
, for the
fourth rank
two cyclists of Caisse de Epargne team sprinted.
Brushegin and Uran Uran. Sixth was the later winner of the general classification Nibali.
Frank Schleck and David Moncoutie (later winner of the mountain classification) followed them.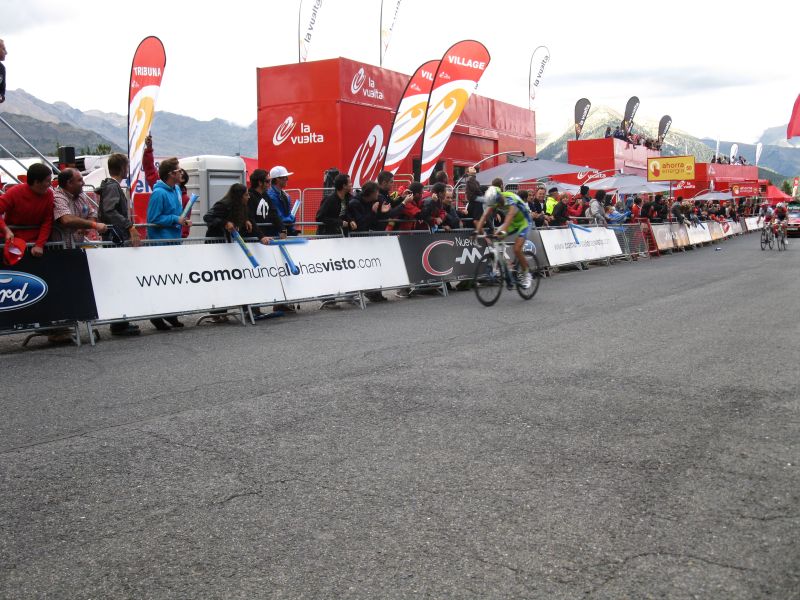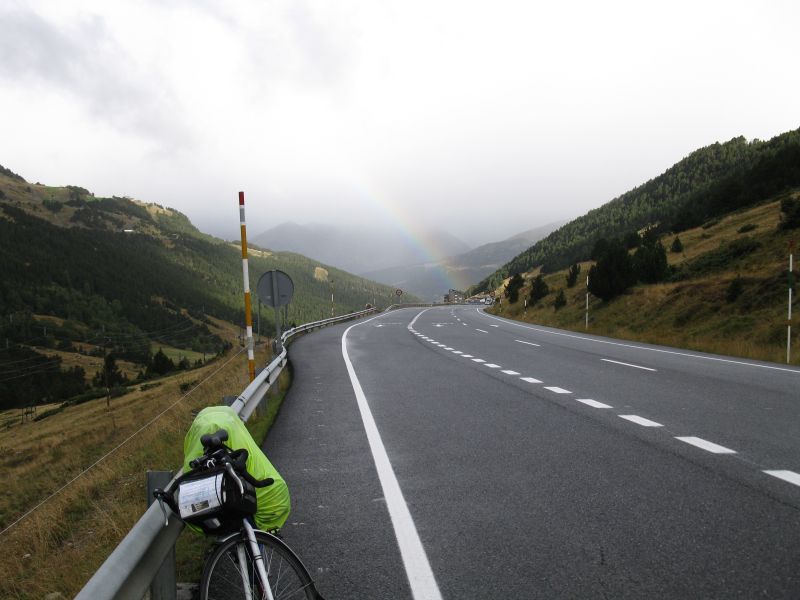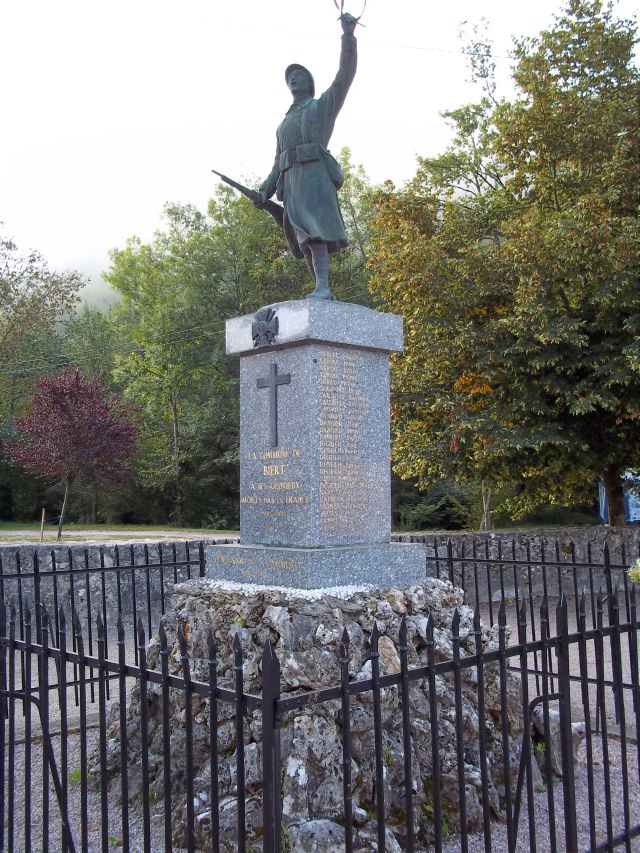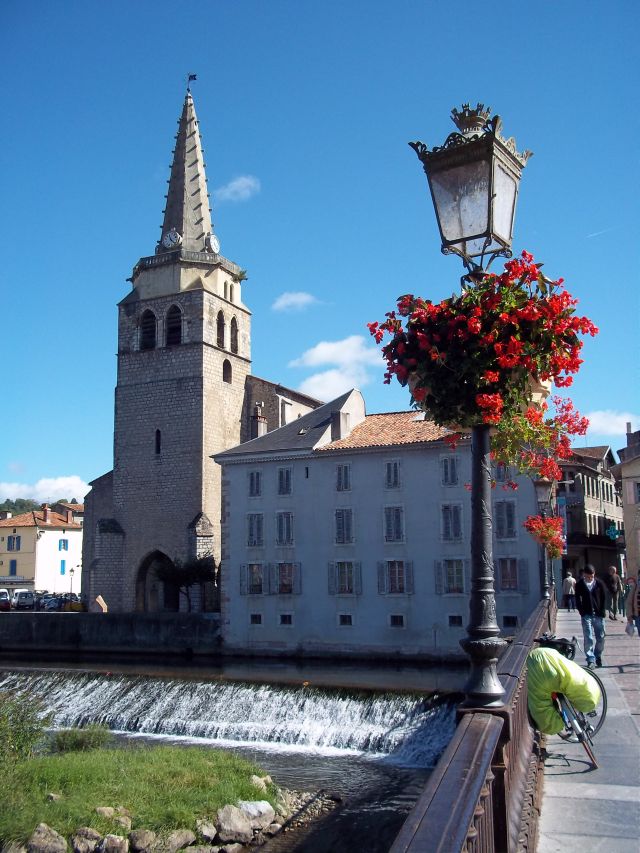 Nibali, F.Schleck,Moncoutie Andorra taking farewell from me wwith a rainbow at 2 C, fog and rain; World war monument in Biert St.Girons
XIII. day


Early in the morning I strated at 5 C. On the long way uphill I was quickly warm despite of the light rain. Relatively easy I reached the top 2406 m. There was fog, rain and wind.
From there on I descened . I was freasing so much. Even a local car driver stopped to ask me whether I am OK !
I was shaking so much, my teeth ware chattering. I had to go in several shop to warm up.
Finally I bought a second camera for 100 €.
Further downhill I stopped in the fromer customs building to dress everything on I had with me. Because I felt enourmesly cold.
I got as far as Ax les Thermes. The brakes rubber were gone in the wet, muddy weather, I had to buy new ones.
I could find an open bike shop on the second day in St. Gironds.
In Ariege river valley I cycled in friendly weather, sometimes even at sunshine, sometimes in light rain to Ussat le Baines.
After I left the main road and turned in direction of Col de Port ( 1249 m ).
On the pass I could not make any photo, because I was too clumsy with my new camera. It is a pity because the view was marvellous with the peaks and the dark clouds.
In Biert I stayed in the best camp site at a farmstead
www.azaigouat.com
:Lazaigouat Camping a la ferme
The sign post to the Camping
.
I recommend this camp site every cyclist, because the owner is friendly, speaks English.
Mikrowawe oven and a gas stove were available. I stayed in 20 camp sites in France and Andorra, but non of them had these facilities.
In addition you can reach several mountain passes from here. The road to one of the passes is winding up by the camp site.
Continues :XIV.-XXV. days from Andorra across the Pyreness back to Lake Geneva still in German language, but soon in English
back to home