Climbing passes in Slovakia March 2nd - 5th, 2010.
I drove by car via Parassapuszta to Hontnémeti (Hontianske Nemce).
From here
I started my cycling tour.
Selmecbánya
(Banská ©tiavnica).The town is part of the Wold Cultural Herritage and has lots of valleys, hills and mounts.
Girls castle (Nový Panenský zámok 1571)
also belongs to it.
My first wheel axle (shaft) got loose,but I found soon the workshop of
Tanad Sport
in the town, whose owner spoke Hungarian.
Inspite of that I promised myself , to take more tools with me particularly in Romania in the future tours.
I drove a whole day to find a proper bicycle service in autum 2009. I found it only in Cluj(Kolozsvár).
I cycled over Sedlo Pecivy, Sedlo Červená studňa (Red well)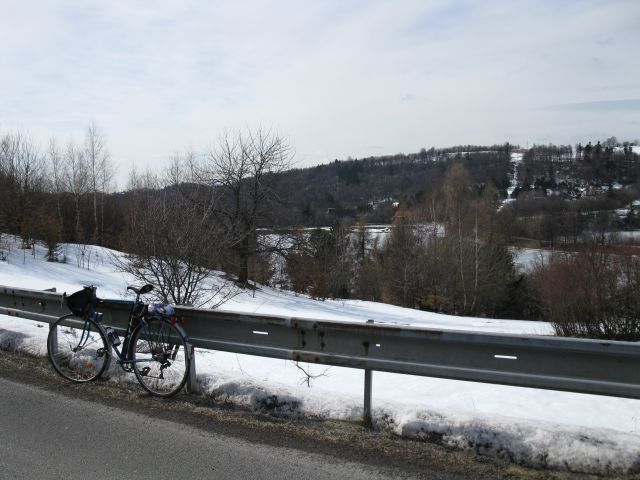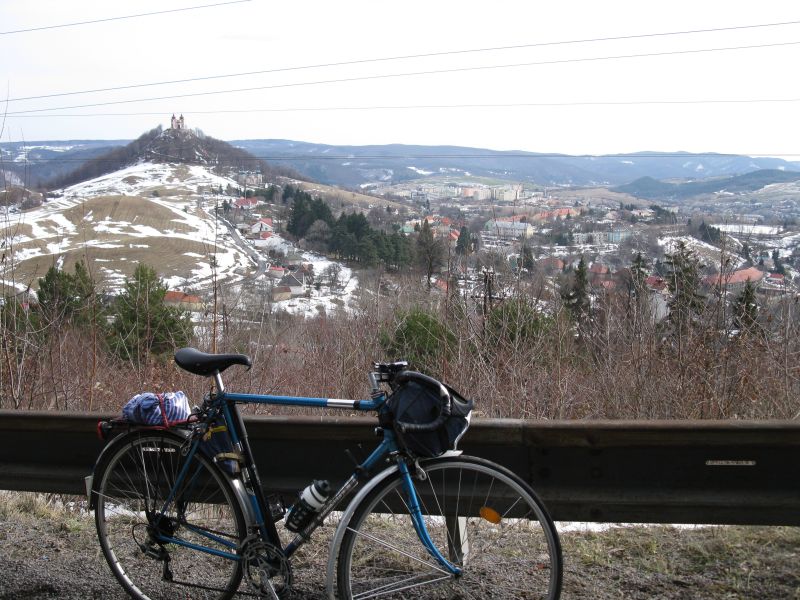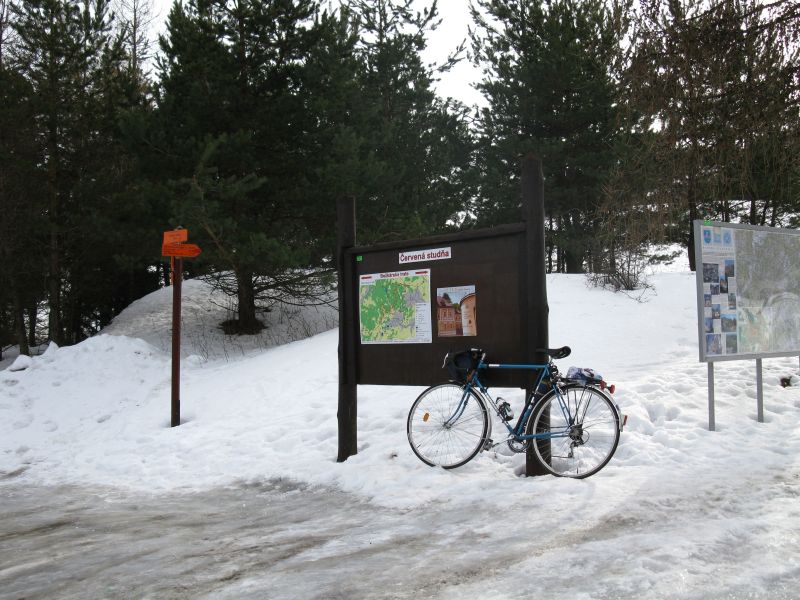 Sedlo Pecivy 750 m Selmecbánya with Kálvária church Sedlo Červená studňa (Red well) 791m
I cycled back to my car and drove to Körmöcbányára (Kremnica). From there I went by bicycle from 522 m up to 1218m.
In the last km ice, ice ribs excepted me and my back tyre was slipping. I had to push my bike a few times.
On the down hill ride I did know about the slippery, icy road, I pushed a bit, then I was very slowly descending balancing with both legs in the air. I fell a few times. At the last fall the whole content of my bag on the steering bar was thrown out on a large
surface .
I gathered them and could not find my camera. Then I suddenly remembered as the very young Slovak boy the photo shot - sorry for the quality- I did not pull the zipper-fastener . I slipped out in the first turn, though I did not fall.
Back in the parking lot quickly!!!
I could not find it at the Skalka sign. In the mean time 8-10 British skier passed me by whilest climbing uphill .
With the in the bike service freshly bought flash I was looking for the camera. I found its case, but empty. Finally I also found the camera. I turned it on, then I was very pleased,because it worked !!!
After that I did not hurry any more. It was completely dark. I had my visibility vest on. I can only recommend it to everybody, it did a good service to me. All the drivers kept a large side distance . The car drivers of Budapest should be sent here to a training course !
I found my accommodation before Brezno (Breznóbánya) in
Motorest Nemecká
(Garamnémetfalva) for 5 €t !
I can recommend it, because they have a good cook and the food was also cheap !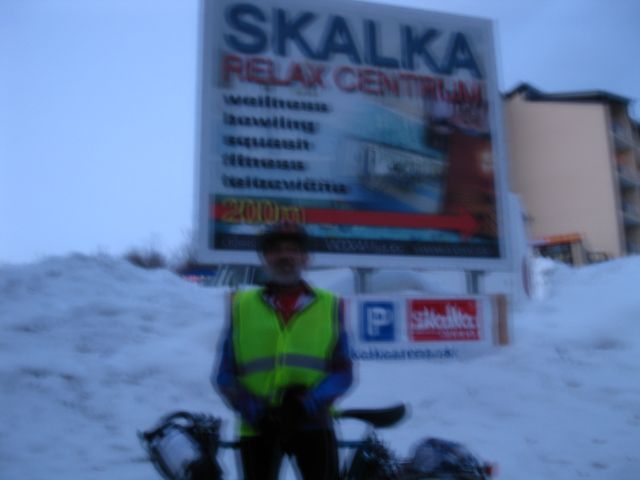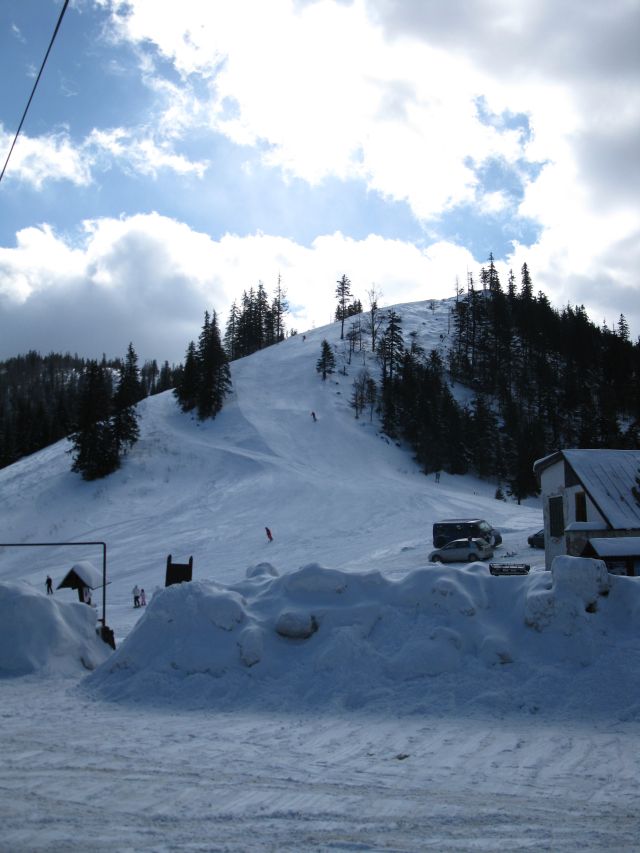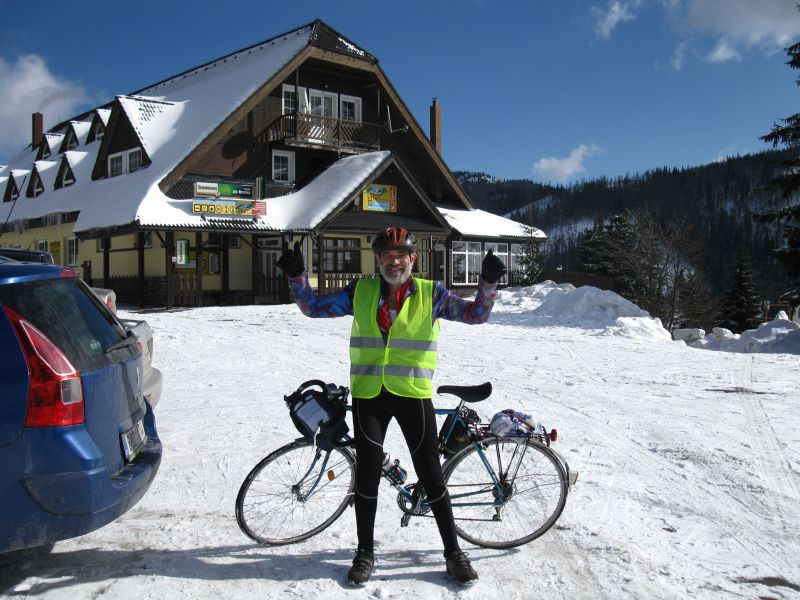 Skalka 1218 m Pass Certovica ski course Pass Sedlo Čertovica 1238m
Second day


I pedaled through
Bystra
towards
Ördöglakodalma-hágó (Sedlo Čertovica)
under 0 oC , but in bright sunshine, passing by the ski courses/grounds we used to ski in the villages :Bystra, Mýto pod Ďumbierom .
View from the pass
, another photo of
precipice
. In the downhill ride only the coldness kept me back from rolling over 50 km/h.
I drove by car to Michalova (600m). From here I cycled over the pass Sedlo Zbojska (725 m) to Tisovec (510 m).
I passed by
such icicles
.I climbed Dielik Sedlo (578 m) then via Murányon(390 m) again up to the pass Sedlo Prena Hora (763 m).
You can see here
Koháry-column
with latin sript. The noble family Koháry was the biggest land owner of the area in Gemer.
Then I pedaled back over the passes Dielik and Zbojska to the car.
In Tisovec I slept in the CSM Hotel for 12 €, getting a nice, clean room with TV and attached bath room (I could even receive the Hungarian TV2).
I also got omelette for breakfast for 1.71 € early in the morning.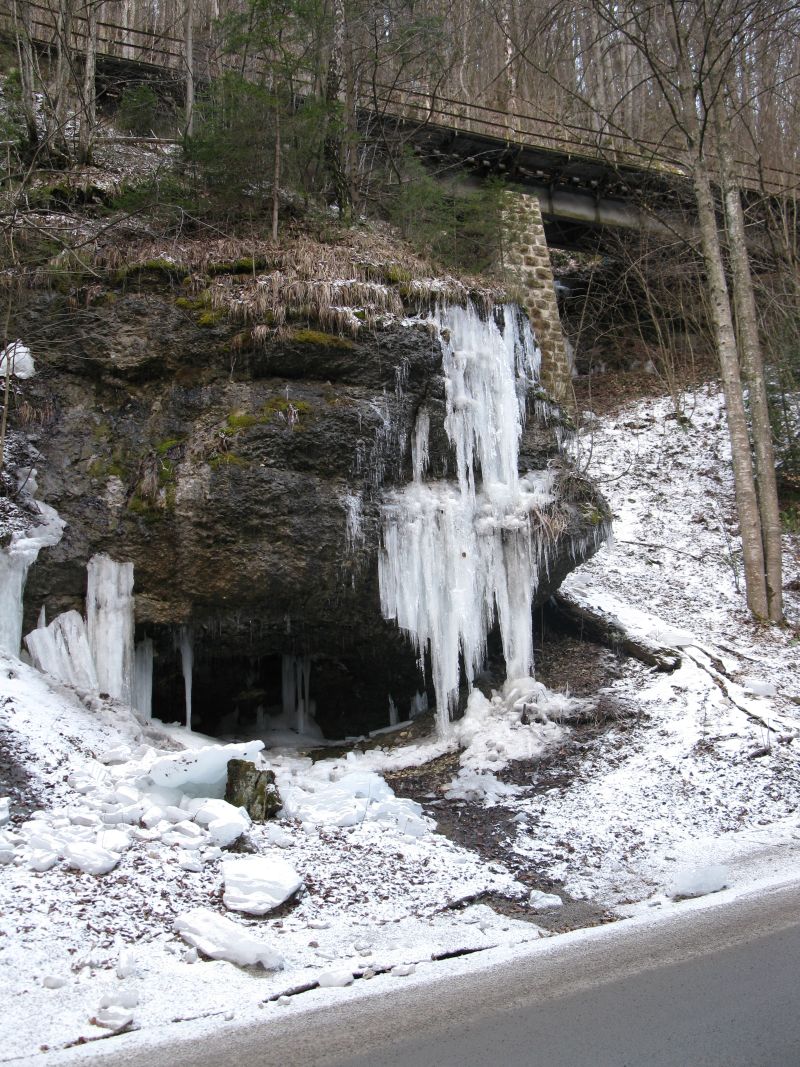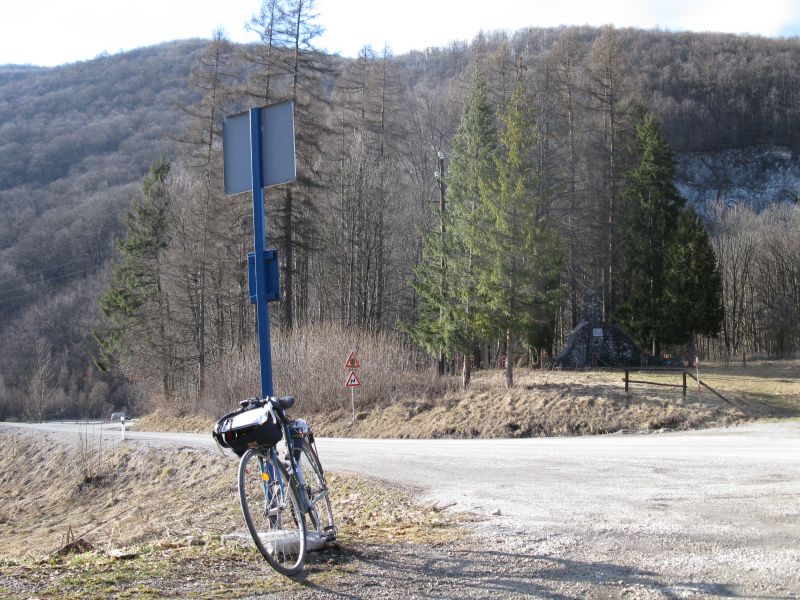 icicles at the viadukt Tisovec Dielik Sedlo 578m partisan monument in background Sedlo Predná Hora (763 m) icicles after Zbojska pass
Third day
I drove towards Dobsina. On the way I explored by chance a pass, the
Sedlo Javorinka
(965 m).
I left my car in Červená Skala 800 m and cycled back up to the pass Sedlo Javorinka.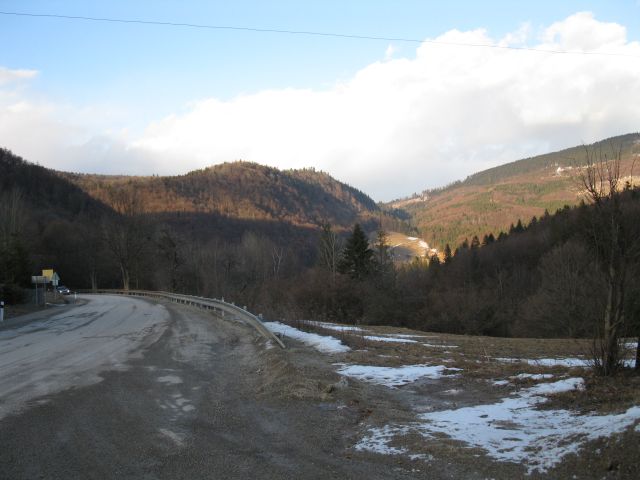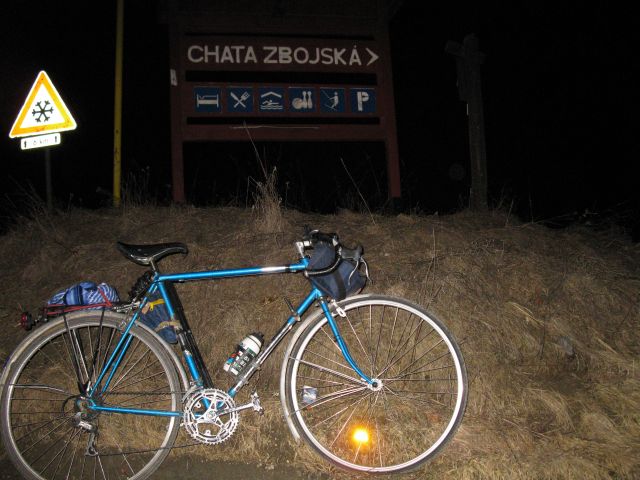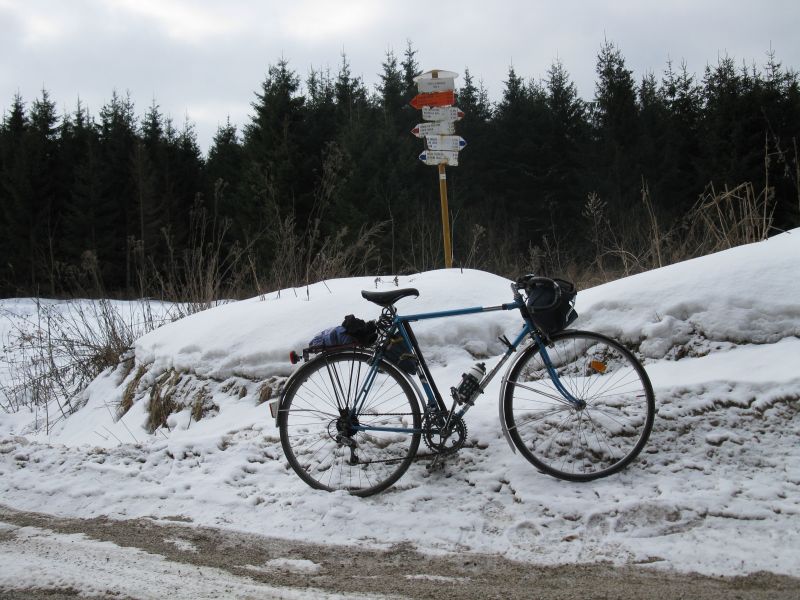 View from Prena Hora pass to North-Gemer I climbed Sedlo Zbojska second time,now in darkness Sedlo Javorinka 965 m
I drove by car to Telgárt. From here I pedaled from 880 m up to Sedlo Besnik (994m) passing the
spring of Hron river
.
I of course walked down to
the spring
to shoot a photo.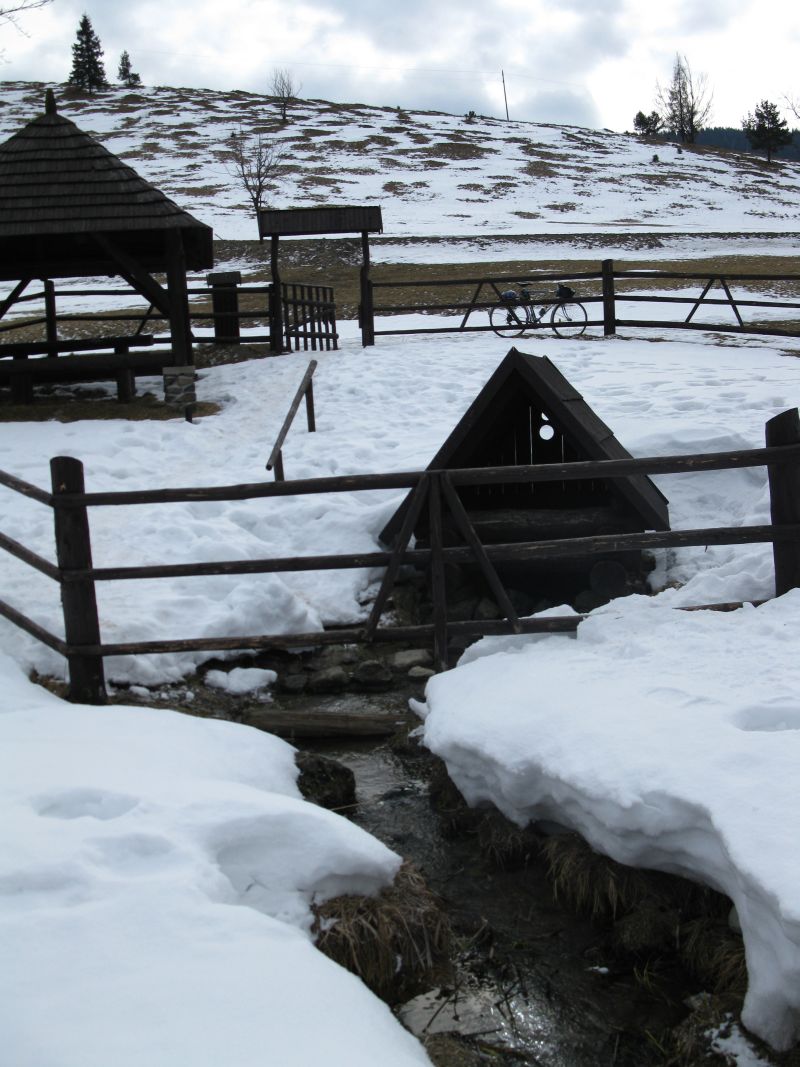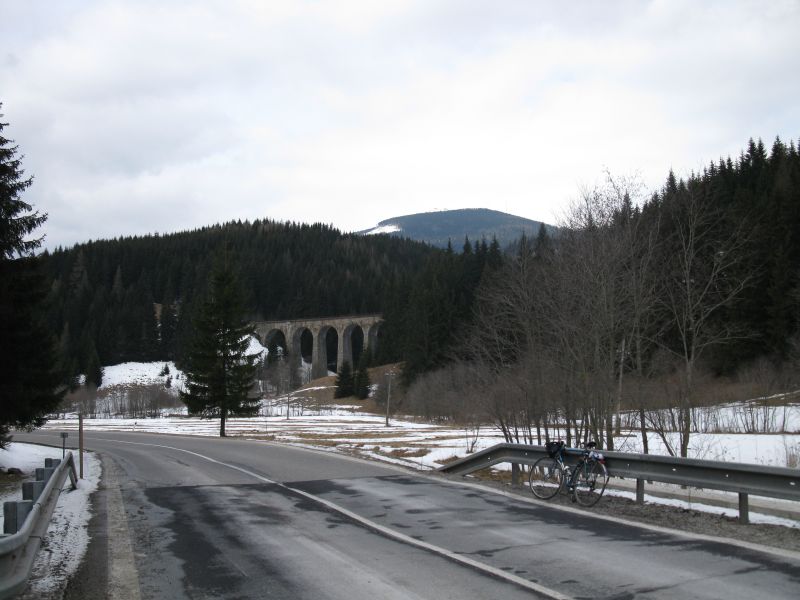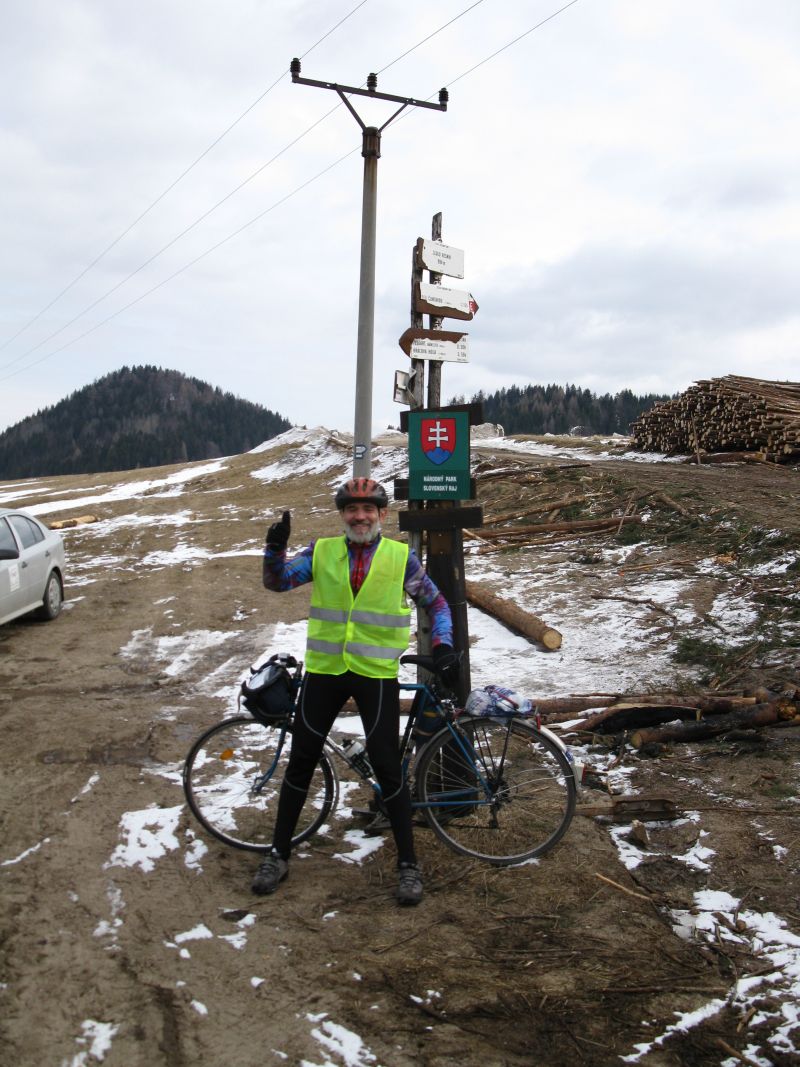 Spring of Hernád river ( Prameň Hrona ) viadukt of Telgárt Sedlo Besnik 994m
Then downhill to Puste Pole ( 920 m ), again up to 1053 m pass Popova Sedlo.
Then the same way back to the ski area of Telgárt.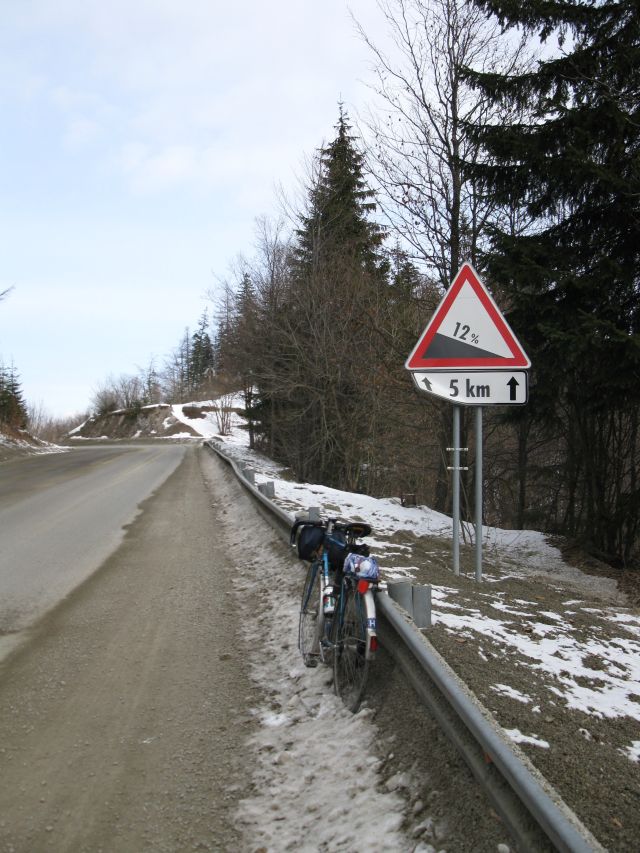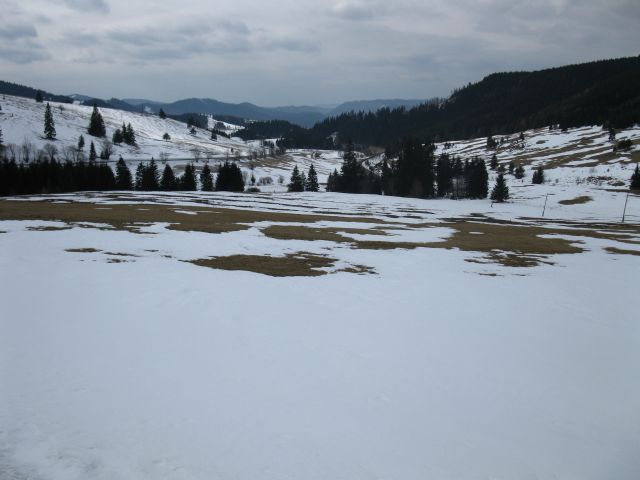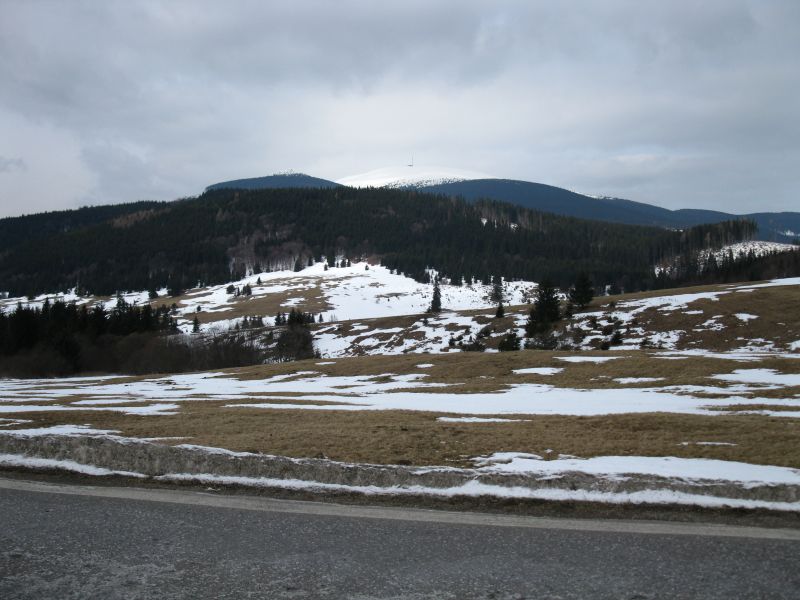 Popova Sedlo 1053m Low Tatra National Park Királyhegy (Kráµova hoµa) 1946m
Spot of the mountain sprint over 1000_m
left from a bycle race with view to the pass Sedlo Besnik.
I drove by car to
Hnilec
(710 m) then by bicycle up to the pass Sedlo Súµová (910m ) hágóra, (
see sign
) , again back to my car.
I went by car to
Krasnáhorské Podhradie
( 380 m). I climbed by bicycle up to the pass Uhornianske Sedlo (999m) in the empire of ice and show.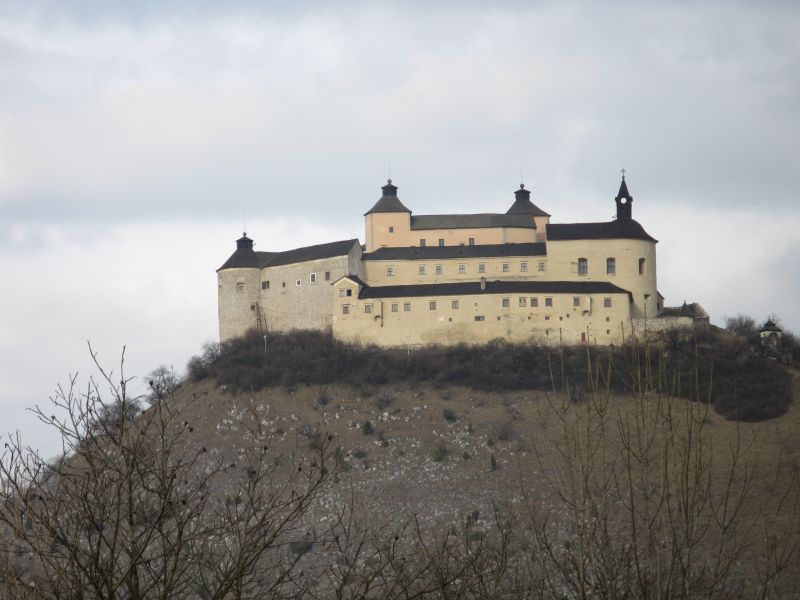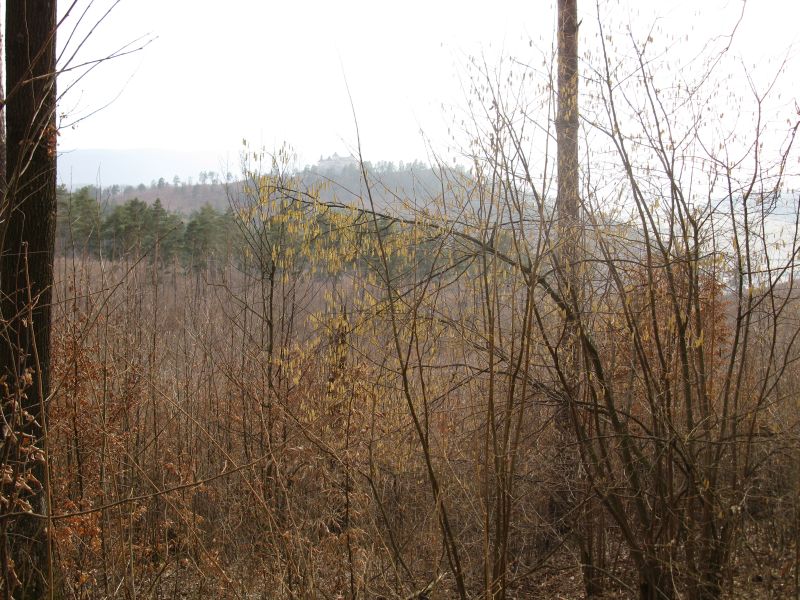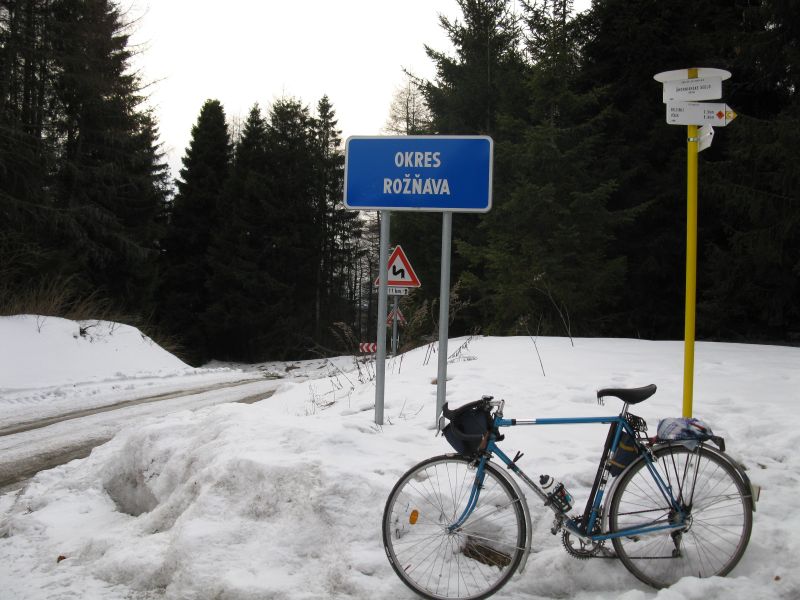 the proud castle of Krasna Horka view from the pass road to the casle Pass of Uhornianske Sedlo 999 m +1m snow
Descending from the pass I heard a big noice in the steep hill side wood. The road surface was very bad, so I stopped. Then I glanced a with me parralel running deer, who seconds later crossed the road and speedy disapeared in the wood.
It was a moving,shocking experience !!
It was a fair compensation for three day cycling.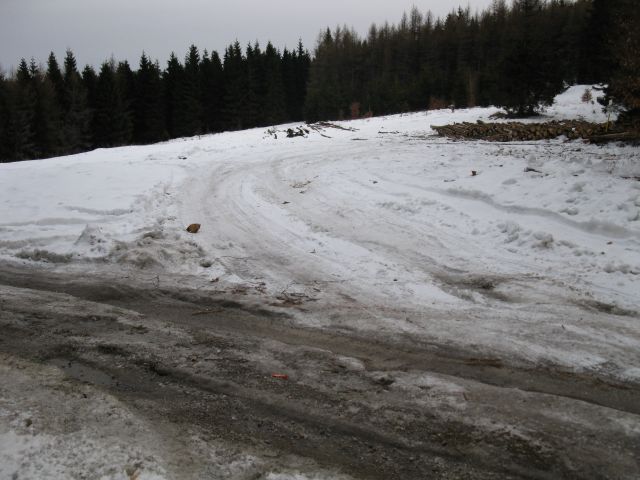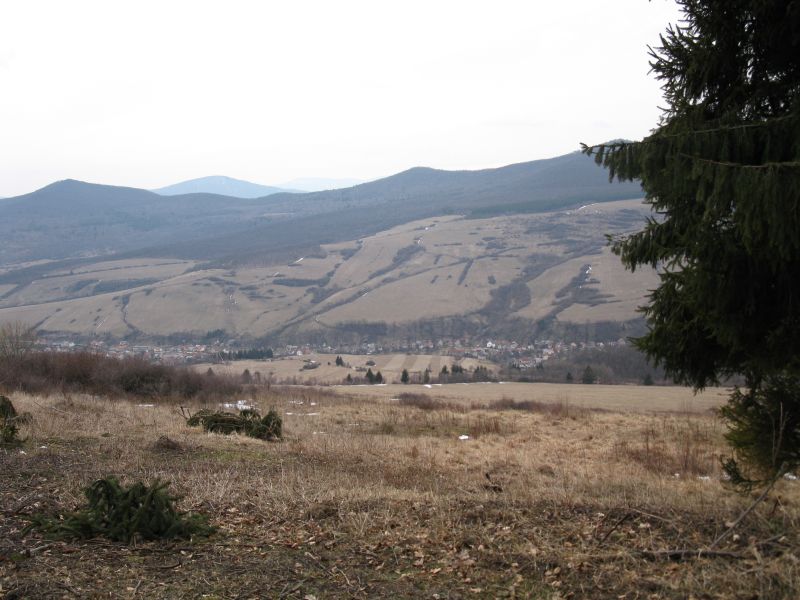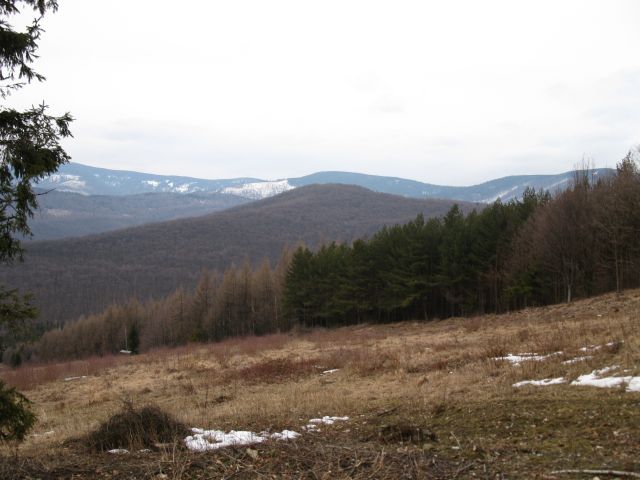 pass top in ice and show valley of village Pača /Andrási mountains of Gemer
I can recommend also this area for cycling tours, because the roads are in relatively good quality, accommodation is cheap, the hills and mountains are beautiful and not by last the beers are excellent !!
Have nice tours !
home